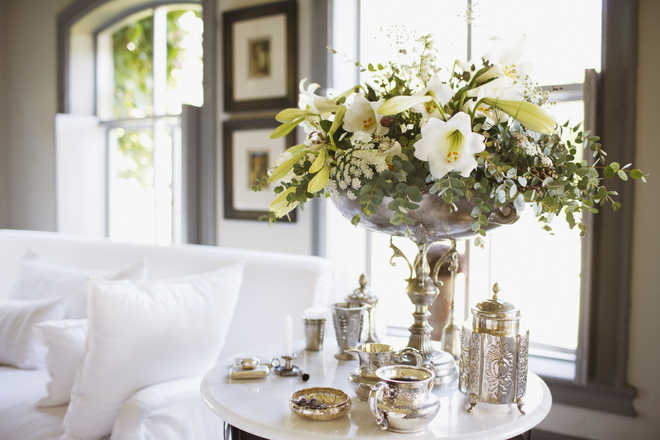 Sharmila Chand
It's time to show off your silver collection! Take out your diyas, figurines, puja thalis, tea sets and other items and be festival ready. Silver is the quintessential festive pick in home decor. Whether you want a shimmering living room or a high-drama bedroom, luminous silver enhances the look beautifully. No wonder, silver is the colour of the season. Particularly, silver accents which have use beyond just their good looks, for example tea sets, lamps and candle holders and cutlery, are a rage this season. Also, the oversized statement pieces in silver are making a big comeback. "Statement pieces create a huge impact, compared to tiny invisible pieces that make your home look cluttered," says Ekta Khialani, founder, Casa Novo. "Idols and figurines in human forms are out and will be replaced with quirky contemporary forms and shapes."
According to Nisha Mehta, founder, Muse The Store, "This festive season, silverware style from the royal era is working well. Large trays and vintage tea sets are being used in home decor. Natural stone elements such as statement-making handles add to their overall charm."
Mugdha Bhagchandka, creative head, Hèrmosa Design Studio, feels millennials are giving thumbs-up to silver. "The hot trends in silver range from silver foiling to silver inlay, amplifying the characteristics of the products. Also, furniture with a silver touch has got a nod from the millennials — they are opting to go classic with the choice of their interiors," said Bhagchandka.
Heighten the drama
Silver accessories that blend into modern spaces seamlessly are popular. According to Khialani, intricately carved silver accessories for homes and spaces with a more traditional design, cleaner lines and modern forms for minimal new age homes are trending.
Nisha Mehta opines, "Antique looking silver with embossings is primitive and out. Sleek and minimal vintage silverware is something one should consider the next time one plans to buy silver home decor." "During the festive season, people buy pieces they feel will bring them good luck. So consider investing in an idol for the living room. It adds a lot of positive energy. Beautiful lamp pieces, pots and flower vases can be added to the traditional festive look and feel," she adds
Make a statement
Metallic accents not only brighten up the room but also give it a bit of an edge. Silver is a great option as it looks elegant without going over the top. It accentuates both big and small spaces and works well with muted neutrals, rendering a relaxing vibe and cozy atmosphere.
A decent mix of silver with charcoals and creams creates a cool space. Metallic silver paint helps create the right texture on the walls. Pairing silver with chocolate brown palette creates a rich, warm tone as silver takes the golden undertone, creating natural light around the room. Silver works very well for modern decor as it enhances the sharp lines, clean spaces and sleek finishes. Paired with a low-platform seater and minimalistic decor, you have a chic, contemporary room.
A silver room is no less romantic. You need to add some powdery blue accessories around the space. Blue bedspreads or curtains blend really well with silver accents and grey walls.
Khialani vouches for an oversized modern accent piece like a large table lamp base or a beautiful sail-boat accent in silver. Mehta puts a lot of emphasis on the placement. "Silver can be a tricky item to place in home space. It can look inappropriate if not placed well. If one has to choose a statement piece for home, my suggestion would be to have urns and jars for the centre table, which can be filled with fresh flowers."
Likewise, Bhagchandka lays emphasis on how to enhance the look through right placement. "The entrance to your house gives an idea about the interior. Therefore, a mural in silver or an art piece at the entrance is a statement piece that will intrigue the guests to see the interiors of the house."
What's hot
n Modern forms and shapes for standalone accents like a bus figurine, vintage car, minimal sailboat or an oversized apple can be great keepsakes.
n Lamp bases that add both utility and charm to your space could be incorporated effortlessly.
n Accessories like wine coolers, mixing sets, peg measures and plates are also a great additions to a clean and classic bar space.
n Modern pooja thalis, diyas and bells add extra charm during the festive season.
n Picture frames with modern moulding styles for tables as well as walls would be a great addition to the living space during festive season.
n Simple elegant trays and platters for dry fruits could be great decorative items to add during festivities.
What's not
n Tiny figurines along with idols and statues made of silver are out this season.
n Very intricately carved cutlery and crockery might not be everyone's choice.
n The trend of overusing silver accents in your home is a complete no-no.
Try this!
n Invest in pieces that you love and will be happy with for many years to come. Having silver accessory collections is always lovely .
n Analyse if silver is the right metal to choose for your home. See if it blends with the decor story and vibe of your home. If not, opt for brass accents or copper elements instead.
n Create a mixed metals vibe in your space by using dull gold and brass accents along with silver elements, so that your space looks curated.
n Don't overuse silver accents in your space as that can make your home look too loud and garish.
— Ekta Khialani
---
Handy Tips
Silver adds richness and elegance to the space but keep the following in mind while incorporating it in your decor
n Coordinate it with right colours. Silver doesn't complement every colour in the palette, therefore keep the theme and colour combination in mind.
n Ensure minimalistic setting when playing around with silver accessories. Too much silver gives cluttered look.
n Having one tone for all silver products is the key since having too many shades of silver can distort the aesthetics of the place. — Mugdha Bhagchandka
Top News
Says 2004-2014 was a lost decade but 2030 will be India's de...
UPI soon for all in-bound travellers, coin-vending machines:...
He said the prime minister did not answer the questions he h...
All promotional cases to be kept outside the purview of the ...
Three-member collegium also recommends appointment CJs of hi...