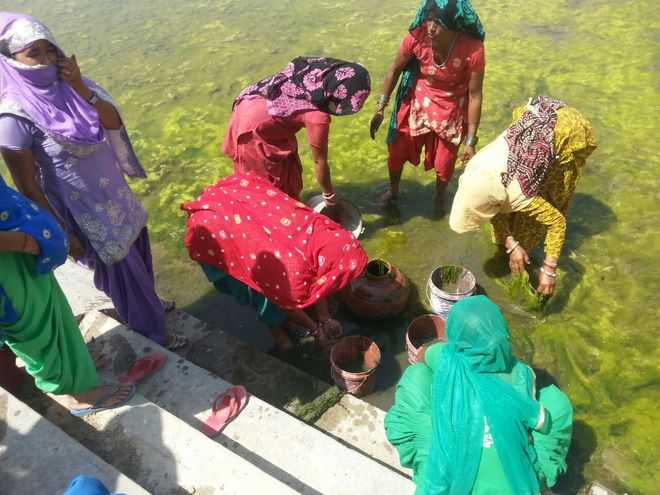 Sat Singh
TRIBUNE NEWS SERVICE
BHIWANI, APRIL 17
Until now, skewed sex ratio led Haryana's men to other parts of the country in search of brides. Now, acute water shortage is further lessening the availability of marriageable women for umpteen bachelors in the district. Reason being, nobody wants their daughters to spend the rest of their lives fetching water.
Not even the lure of land or employment – the exact matchmaking requisites – guarantee a bride here. "My son earns a decent livelihood. He has passed Class XII, owns 10 acres and works with a transport firm. I have been trying to find a match since long, but people do not want to marry their girls here because of acute water shortage," said Jai Singh Poonia, a resident of Bhaktawarpura village of the district.
He said the parents of the girls he has approached want the bridegroom, instead, to shift to a place where their daughters won't have to face water shortage.
Chameli Devi, a resident of Morkha village, said, "Women have to walk several miles a day with pitchers on their heads to fetch water that is brackish and unfit for consumption."
Expressing concern over shortage of brides, she questioned, "Who wants to marry off their daughters in this dark zone, where they would have to ferry water for their family and milch cattle from far off wells and ponds."
Jagbir Dhanda (42), who owns 6 acres, said he had to live a life of bachelorhood as his parents could not find a girl for him a decade ago, now the situation has turned even worse.
However, chances of finding a bride are brighter for those well off. "The moneyed can afford submersible pumps, but a majority of people in Siwani tehsil of the district either remain dependent on water tankers or women to fulfill their daily water needs," he said.
Dayanand Poonia, state secretary, Kisan Sabha, said it was high time the situation was addressed.