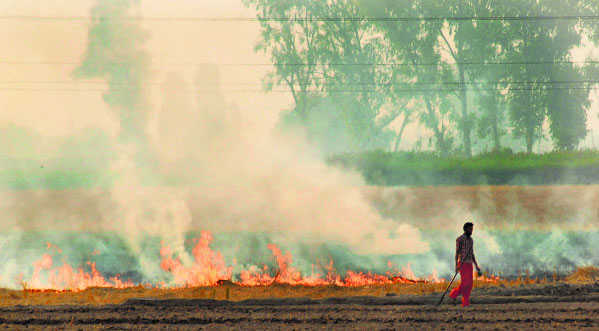 Aman Sood
Tribune News Service
Patiala, November 9
The Punjab Pollution Control Board (PPCB), in an official release of data today, claimed that paddy stubble-burning incidents had sharply declined in the state.
Despite the claim, the practice continues unabated in Punjab and residents are on the receiving end due to the smog cover.
As per a satellite imagery study conducted by the PPCB from Punjab Remote Sensing Centre, Ludhiana, this year, the number of paddy burning incidents have decreased.
"The data compiled by the PPCB is questionable. When one travels to any part of the state, there are dozens of fields with paddy stubble," claimed former forest officer and an environmental activist Karamjit Jatana.
The data made available from October 15-22 indicates that minimum fire incidents were recorded from October 16 to 20. "During the harvesting period of the paddy crop, the total production of paddy straw/residue has been estimated as 17-18 million tonnes (MT) per year," reads the report.
The PPCB says that for generation of power, the use of paddy straw has been encouraged and seven bio-mass-based projects of capacity 62.5 MW power plants have been installed and are in operation.
In these plants, about 0.5 million MT/year of paddy straw is used. "13 more bio-mass-based power projects of capacity 147 MW are under execution and likely to be commissioned by December 2016.
In 2015, PPCB has identified the indiscriminate burning of paddy straw in different fields of district Kapurthala (2), Amritsar (1), Fatehgarh Sahib (4), Patiala (1), Hoshiarpur (2), Faridkot (1), Mohali (3), Sangrur (2), Gurdaspur (1), Bathinda (1) and Ludhiana (1). Accordingly, the cases have been sent to concerned officials so as to initiate legal proceedings against the violators.
The central environment ministry had recently summoned top bureaucrats from Punjab to discuss the smoke emanating from Punjab fields as children and elderly have been facing difficulty in breathing following the thick blanket of smog.
"We have been successful in tackling issues of paddy stubble burning and doing every bit to tackle this menace. This year, we issued stamps on every 'J' form given to farmers in grain markets to make them aware of the consequences of stubble burning," said top PPCB officials.
Top News
The move is a key step as Western sanctions aim to reorder t...
Will use all relevant tools to ensure terrorists do not use ...