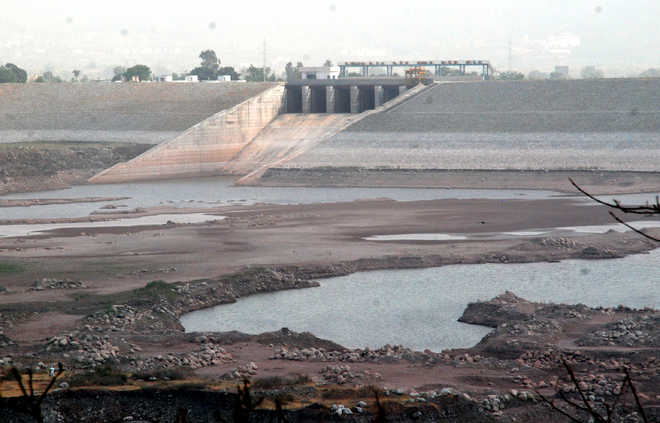 Ishrat S Banwait
Tribune News Service
Panchkula, April 29
The supply from Kaushalya Dam has exhausted and HUDA will stop drawing water from it. The reservoir has reached the 459-m mark which is its 'dead storage'. This much water needs to be retained in the reservoir, which means no more water will be available from it for the city.
The city was getting around 10 cusecs from the Kaushalya reservoir and Kajauli. The remaining water is drawn from 200 tubewells. The city's current demand is more than 50 cusecs which may further increase as the summer gets harsher.
HUDA authorities, however, feel that there will be no shortage of water. Superintending Engineer Sanjiv Chopra said, "The share of Kaushalya is not much and will be easily compensated by the tubewells. We are saving a lot of water now due to the tertiary water in parks." He added that the water wastage ban had also helped in saving drinking water.
HUDA claimed that it would not let shortage of water be an issue as 20 tubewells which were running 10 hours daily would run for 16 hours to compensate Kaushalya's share. However, people are already facing water shortage in many parts. While residents complain of low water pressure, especially on the first and second floors, there have been reports of acute water shortage in Abheypur village.
Water wastage: Over 100 challaned
HUDA has challaned over 100 persons for water wastage within 10 days of the ban implementation. Chopra said the daily average was 10 to 12, but there had not been a single case where a person was found violating the ban for the second time. HUDA said it was happy with the response of residents and that most of the people were now making efforts to check wastage of drinking water.