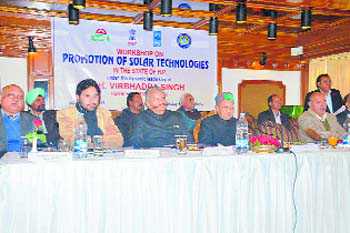 Kuldeep Chauhan
Tribune News Service
Shimla, March 6
Chief Minister Virbhadra Singh yesterday said the final master plan for the development of Shimla and Hamirpur as solar cities had been approved by the Ministry of New and Renewable Energy (MNRE).
The ministry had sanctioned a 15 kWp solar power plant at Panchayat Bhawan and two solar plants of the 20 kWp capacity on The Ridge and Old bus stand in Shimla, he added.
Inaugurating a workshop on the promotion of solar technology under the solar city programme organised by HIMURJA here, the Chief Minister said it was essential to tackle the energy crisis through judicious utilisation of renewable energy resources - biomass, solar, wind and geothermal energy.
He said people were being encouraged to install the grid-connected rooftop solar power plants. Shimla was being developed as a 'pilot solar city' and the department should work on other projects so as to develop solar cities in other parts of the state, he added.
The Chief Minister said the country was facing acute energy scarcity which was hampering the industrial growth and economic progress. "It was former Prime Minister Manmohan Singh who launched a national solar mission in 2010 to transform rural India", he added.
Virbhadra said Himachal endorsed the national policy for promoting clean and environment-friendly technologies in place of polluting fossil fuels. "We have planned to reduce environmental degradation and deforestation by promoting renewable energy technologies in the state", he said.
The Chief Minister said Himachal could become a model solar state. They had notified the revised solar power policy with simplified procedures in January, he added.
He said HIMURJA had commissioned five small projects at Juthed, Kothi, Lingti, Sural and Purthi of the 900 kw capacity, while four projects of 1470 kw had been commissioned under the state sector funding at Sarahan, Gharola, Saach, Billing and Bara Bhangal.
Joint Secretary, MNRE, Tarun Kapoor said solar projects worth 5,547 mw had been installed till February 2016 and the country targeted to achieve 1,00,000 mw of solar power by 2022. Himachal need to tap Spiti but it need to redress the transmission part, he added.
Kapur said charges for solar power had reduced from Rs 17 per unit to Rs 4 per unit on the mounted solar panels and Rs 6 per unit on the roof-top mounted plants.