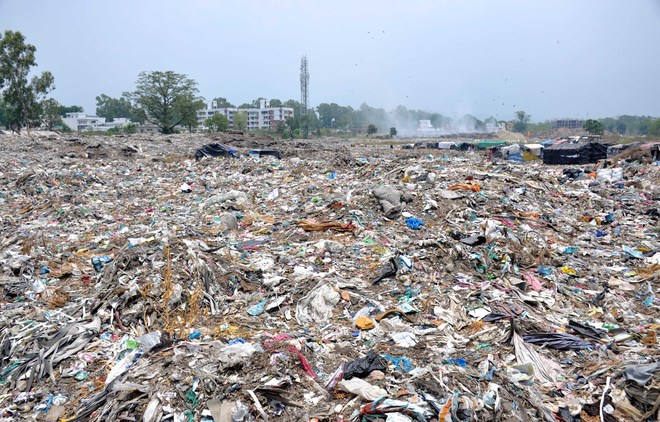 Abhyudaya Kotnala
Tribune News Service
Dehradun, July 29
Finally, a big respite has come for residents of Dehradun city, especially of the Sahastradhara area who have been living a miserable life near the trenching ground of the Dehradun Municipal Corporation (DMC). After a long struggle of eight years, the state government yesterday gave the DMC approval to go ahead with the Shishambara solid waste recycling plant at Vikasnagar.
The solid waste management project under the Jawaharlal Nehru National Urban Renewal Mission was launched in 2008 and the work of the first phase also get started in 2011. But the second phase work got stuck, as the Union government denied environment clearance for the recycling plant. The DMC approached the Supreme Court which gave it the clearance for the second phase work. The Union Environment Ministry also gave the no-objection certificate in 2014, but the state government didn't agreed to the project. The DMC thrice submitted the revised detail project reports to the state government and finally got the approval this year.
According to DMC officials, now city residents, especially those living near the trenching ground, will be relived once the plant starts functioning. "After a long struggle the state government has given us clearance for the project. Now, we will invite tenders for the project. When the plant starts working, we will clear the garbage from the trenching ground and the city residents will get relief from the solid waste problem," said Mayor Vinod Chamoli.
Timeline
In 2008, the solid waste management project was launched under Jawaharlal Nehru National Urban Renewal Mission.
In the first phase of the project, door to door collection of garbage was started in 2011.
The Union Ministry of Environment and Forest gave the clearance for the second phase.
Dehradun Municipal Corporation approached the Supreme Court, after which the Union Environment Ministry gave environmental clearance last year.
State government created hurdles since December 2014.
DMC sent revised detail project report thrice to the state government, which finally gave clearance on July 28.
Top News
The Khalistan sympathiser said if the state government had t...
'Let us not be selective,' Solicitor General said while insi...
Counting of votes will take place on May 13
Deplores attempts by Rahul Gandhi to draw parallels between ...
Petitioner sought more time from the court for producing evi...