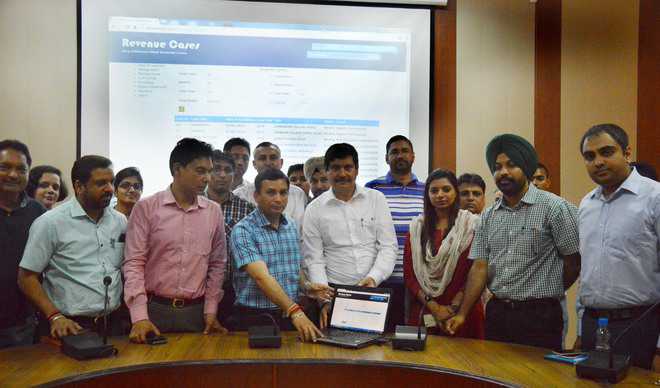 Gurvinder Singh
Tribune News Service
Ludhiana, May 28
Deputy Commissioner Ravi Bhagat launched a new SMS alert system and website www.irevenueldh.com at Bachat Bhawan today. The service will save residents from the inconvenience to visit revenue courts if the cases are rescheduled due to any eventualities.
An SMS will be sent to the registered mobile numbers of the parties and their counsels for revenue court hearings in advance. The newly launched website will contain all information and details about the revenue courts.
This website has been a brainchild of Jaspreet Singh, IAS, Assistant Commissioner (Under Training).
Speaking on the occasion, the DC said it was the first time that such an SMS alert system intimating parties about the court case schedule had been started in the country. Even the counsels will be sent an email prior to the hearing of their case.
Bhagat said the concept behind developing this website was to provide information to all the parties concerned about current status of revenue case they are involved in. The parties and their counsels will get an SMS alert in advance about the due date approaching for their case and what they are expected to do e.g. evidence and documents required etc. The parties will not have to wait for long queues to get their case status in the courts. He said copies of all judgments of the Ludhiana district revenue courts (starting from April 1, 2016 onwards) would also be uploaded on this website and any person could download them. The DC added that the process would also bring in more transparency in the system.
He said the website had been started to save the time and effort in travelling from remote areas to the district revenue courts to know the status and probable action to be taken in the hearing. The portal will facilitate everyone who would like to obtain the status at a click rather than visiting the court personally, he added.
If an SMS related to summoning is successfully delivered to the registered mobile number of beneficiary, it will serve as a record of summon received by the party and hence, will end the hassle in visiting the official time and again to serve the summons.
District Bar Association president Vijay B Verma appreciated the efforts of the District Administration and said this website would prove beneficial for residents.