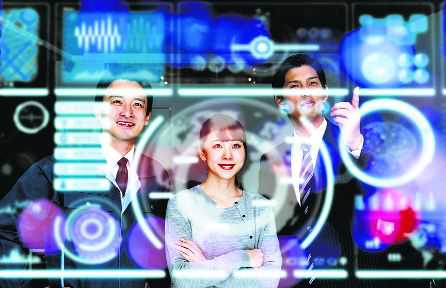 Imagine a world where a network of billions of speakers can be utilised to exactly identify the presence of any smart device (especially smartphones) and through that provide real-time information and interaction based on where one is. Taking off from this starting point and with an aim to create an "Internet of Sound", two engineers from IIT Kharagpur started on a journey to set up their own start-up Trillbit. For the uninitiated, Internet of Sound is nothing but a common proximity intelligence platform for IoT using sound which is low energy and required no additional hardware. Bhaskar Deo, an IIT, JKharagpur, alumnus, who had worked as Acoustic Scientist for Schlumberger in USA and Egypt for over five years, is the brain behind this venture that has already won the best IoT start-up award at IoT India, Congress in October this year. This week he shares his journey as a young entrepreneur:
Inspiration
The idea of Trillbit came as my co-founder Mrigesh and I were listening to NPR TED Hour on a car radio. A web link was mentioned during the show, which we couldn't recall later. Thus, came the thought of how to digitize such information from legacy devices such as TV/Radio and store to smart devices. Sound was the most elegant solution and being acoustic scientists we backed ourselves to find a solution.What started as a small project, soon lit up our imagination because the applications were endless and had huge potential. We realised proximity intelligence and contextual information is at a cusp and data over sound can be a game changer.
The concept
Trillbit is creating an identity for every location and every media digital or offline using the power of sound. It has created a new data communication protocol, which can add a data layer to any existing audio or video content. This transforms any device with a speaker into a transmitter and any device with a microphone into a receiver. With this, Trillbit wants to create an "Internet of Sound".
Challenges
One of the big challenges in the Indian ecosystem that we faced was that there is very little patience for technology development. I found that very few people had the confidence to back the development of innovative or disruptive teach. After we developed and matured the technology our biggest hurdle has been the speed of adoption, especially in traditional industries such as retail and advertising.
Advice to young entrepreneurs
n Don't wait till your product is perfect. Get it out as soon as possible and iterate, iterate, iterate. As Linkedin founder Reid Hoffman says, "If you are not embarrassed by the first version of your product, you've launched too late".
n Do not try to reinvent the wheel. There are great entrepreneurs who have faced and overcome similar challenges and built great companies. Read books on how other entrepreneurs have built great companies and seek their advice.
n In the beginning, when hard metrics like technology, product or funding is your focus but its very important to keep in mind the kind of culture and team you want to build.
— As told to Geetu Vaid
---
Achievements
Trillbit has been awarded the Best Indian start-up title in 2018 by IIM A and Govt. Of India at ETPOI 2018 out of more than 5000 start-ups of India.
Chosen as top 10 most disruptive start-ups out of more than 2000 start-ups worldwide by Krypto labs Abu Dhabi.
Chosen as top 50 IoT platforms in 2018 worldwide by California based CIO magazine
---
Future plans
Currently our tech is in 50,000 devices and the plan is to be present in 10,00,000 devices in a year. The present 10,000-location spread will be expanded to 1,00,000 locations within a year.