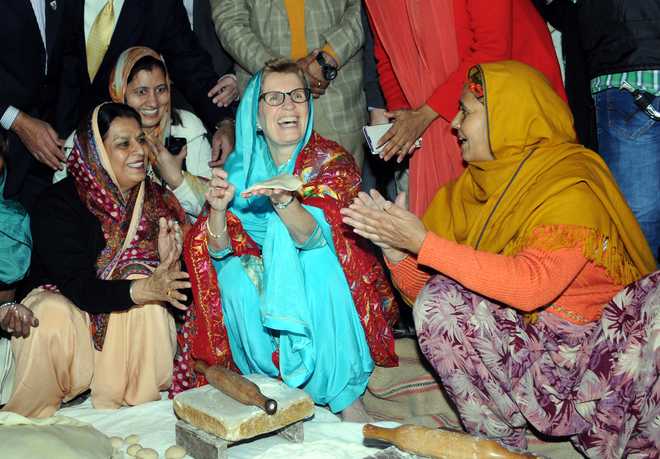 Tribune News Service
Amritsar, January 31
Ontario Premier Kathleeen Wynne visited the Golden Temple on Sunday, but the Shiromani Akali Parbandhak Committee (SGPC) did not honour her with the traditional siropa (robe of honour).
Wynne was escorted to the Golden Temple's inner sanctum by senior information officers of the SGPC and was also taken to show the place where Indian Army's tanks and other heavy artillery stood during the infamous Operation Blue Star in 1984. She then went to the Langar (community kitchen) where she cooked food with many other devotees.
SGPC chief secretary Harcharan Singh gave her a gold-plated picture of the Gold Temple and copies of Sikh scriptures instead of the usual robe of honour at a private welcoming event at which the press was not invited.
Wynne words in the Golden Temple's visitors' book said: "Thank you for the very humbling and special visit to this beautiful sacred place".
Wynee is openly gay and has previously declared her support to same-sex marriages, a practice that the Akal Takht opposes. Her views are believed to be why she was not honoured the traditional 'siropa' during her visit.
Wynne's Amritsar visit was part of her larger 10-day trade mission to India. Some nine Members of Provincial Parliament and some 50 businessmen are accompanying her on a tour to several major cities in the country.