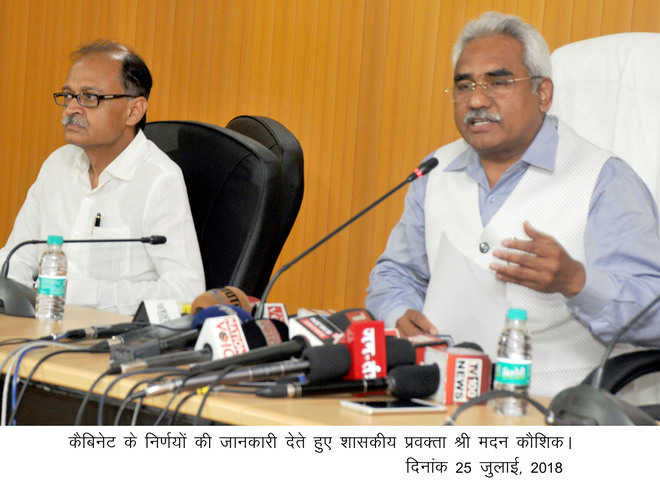 Tribune News Service
Dehradun, July 25
Giving a breather to the residents of the Malin Bastis (slums), who were served notices during the High Court-directed anti-encroachment drive underway in Dehradun, the Uttarakhand Cabinet on Wednesday approved an ordinance that aims at tackling the rehabilitation and resettlement issues and also punishing persons occupied government land illegally.
The ordinance called Uttarakhand Urban Local Bodies and Authorities Special Provisions (2018) has become effective in the entire state.
"We have decided to bring an ordinance which will be followed by an Act and rules and regulations aimed at addressing all issues of resettlement, rehabilitation, regularisation and prevention of encroachment on government land within a period of three years ," said Madan Kaushik, Uttarakhand government spokesperson and Minister for Urban Development, while briefing mediapersons.
Significantly, in the court tomorrow, the government is likely to make a submission about its intention to deal with the illegal encroachments. It will also give a grace period (three years) to the residents of Malin Bastis who were served with eviction notices.
Kaushik said during the period of three years, the Malin Basti Act (2016) will continue to be in place.
When asked why the government was planning to bring a new Act, instead of bringing amendment in the existing Malin Basti (2016) Act Kaushik said; "We were forced to bring a new Act as the 2016 Malin Basti Act which is in place right now and brought by the Congress government failed to address the issue giving land ownership rights to the dwellers of malin bastis (slums)."
Meanwhile, Kaushik said that the ongoing anti-encroachment will continue in the city and said that no decision had been taken regarding urban encroachments, where several people have been served notices for running commercial activities from residential complexes.
In another decision approved by the Cabinet, Aganwari workers would receive an honorarium of Rs 2 on each packet of sanitary napkins distributed by them to women and girls. The government also decided to set up a revolving fund of Rs 6 crore for the sanitary napkins distribution scheme.
Around 25 ITIs have been selected for upgradation exercise to be undertaken under the World Bank (Rs 500 crore) programme.
The Cabinet also gave a nod for the constitution of committees that will look into the hosting of Investors Meet to take place in Dehradun between October 4 and October 5.
The committee will also decide on a partner country for the summit for which proposals have been received from Singapore, Japan, the United Kingdom, Germany, Israel, Thailand, the Netherlands and the United Arab Emirates.
Prior to the Investors Meet road show will be held in Bengaluru (Aug 22), Hyderabad (August 23) and in other cities.