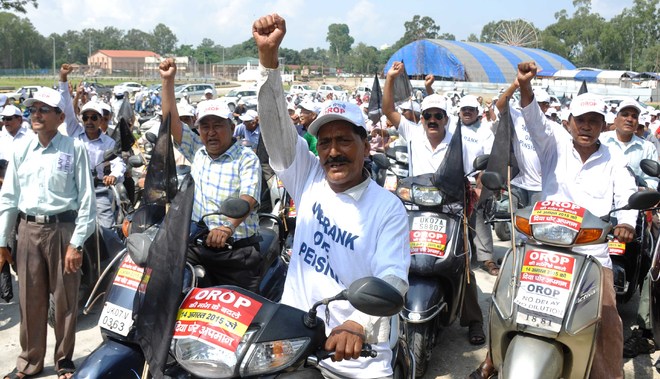 Tribune News Service
Dehradun, August 23
The United Front of Ex-servicemen, Uttarakhand chapter, held a peaceful vehicle rally in the state capital today to demand speedy implementation of one rank, one pension (OROP). Wives of ex-servicemen and war widows also joined the protest.
The rally passed through Survey Chowk, EC Road, Secretariat Chowk, Behl Chowk, Rajpur Road, Ashley Hall Chowk, Gandhi Park, Clock Tower, and Panchyati Mandir Chowk before culminating at Parade Ground.
No traffic disruption was reported as the protesters moved in two rows holding placards and banners highlighting their long-pending demand.
Maj Gen C Nandwani, president of the United Front of Ex-servicemen, resented the delay in grant of OROP benefits to ex-servicemen of the country.
Brig KG Behl, media in-charge of the front, said they had submitted memorandums regarding OROP to government officials several times, but no action had been taken so far. He added retired officers and other employees of defence forces were facing the brunt of pension disparity as the Union Government was yet to take steps to address their grievances.
He condemned ill-treatment meted out to peacefully protesting ex-servicemen at Jantar Mantar in New Delhi on August 14.
Lt Gen TPS Rawat, Brig RS Rawat, Brig CB Thapa, Col SC Tyagi and Maj SS Chowdhury took part in the rally.
Top Stories