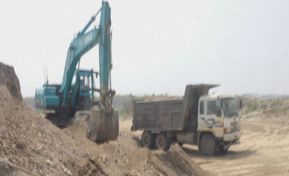 Ravi Dhaliwal
Tribune News Service
Pathankot, June 21
An ecological disaster is in the making as illegal mining in the Chakki riverbed is going on full steam.
DC Amit Kumar has sought a report from the GM (Mining) and has directed him to take steps to ensure no digging takes place, particularly in the mining rich Mirthal belt.
The worst affected places are the villages of Talwara Jattan, Kandran and Mirthal. Villagers complain that they cannot sleep at night because of the high decibel noise generated by the JCB and Poclain (heavy digging) machines.
"If this unabated plunder of the river bed does not stop, a time will come when its level will go down. This is a sure recipe for an ecological disaster. Criminals are carrying out their activities in the absence of clearances from the Ministry of Environment," disclosed an official.
A Talwara Jattan resident said, "We have complained to the officials but to no avail. In a cosmetic exercise, some officials of the mining department inspect the area every now and then but once they are gone things are back to square one at night."
Some of the quarries here have been auctioned by the state government. However, the contractors who had won the bids claim that raw material was not being procured by stone crushers from them.
"We have won the bids. However, we are running into losses as crushers are purchasing material not from us but from illegal sources. A high- level probe is needed to identify the offenders," said Dharminder, a contractor.
Sources reveal that the stone crusher owners have formed cartels which in turn engage in illegal digging of sand and gravel. "In this way, instead of taking material from us, they take it directly from their own people indulging in under-cutting of prices," he added.
"The Mirthal belt, which has nearly 70 crushers, is a major contributor of sand and gravel to the other parts of the country and Chakki river which flows through this belt, remains a lucrative business for criminals," disclosed an official.