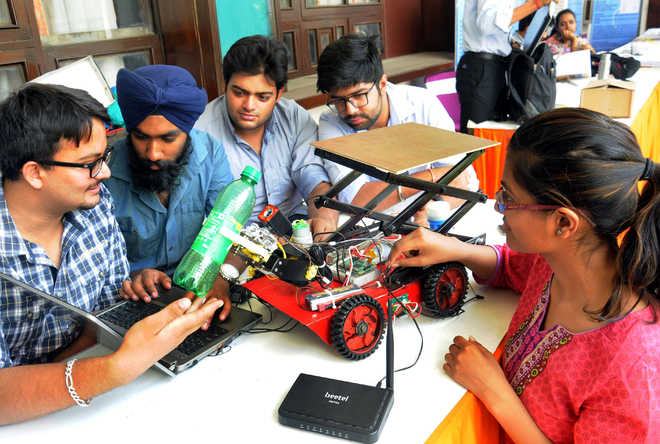 Tribune News Service
Chandigarh, April 18
To assist differently abled in their day-to-day activities, students of the PEC University of Technology developed a robot that can be controlled by a remote or through a laptop for any domestic work. A team of seven students at the department of electronics and communication engineering displayed the multi-purpose robot for differently abled at the Open House-2016 that commenced today.
In a year, the students develop the robot that can help the differently abled in getting hold of the things after raising these to the height of a bed. The students said the major challenge was to make it cost effective as such products were available in the market at a cost of Rs 20 lakh while their robot would cost only Rs 50,000. After giving it finishing touches, they will approach the PGI for its trial.
As many as 20 teams participated in the Open House-2016. The project was adjudged the best.
Another idea that drew the attention was of portable toilets in villages. As per the idea, a pit will be dug with a sensor adjusted in it. When it will be full, the sensor will alert the control room about it and the toilet will be shifted to another area. A five-member team of students at the civil engineering department designed the project.
To prevent thefts and fire incidents at houses PEC students designed a warning system. In the market, such a system costs Rs 1 lakh but the students developed it with some modification at a cost of Rs 7,000 to Rs 9,000 depending.
To meet the challenge of speed, PEC students also developed a kart racing open-wheel motor sport with small, open, four-wheeled vehicles called kart. Kart was designed by a team of 20 students. These usually raced on scaled-down circuits. Basically, a kart does have a suspension system and differential on them, which makes it unique and challenging to drive and race. So to overcome this challenge, the concept of spooling or jacking was used.
The lack of differential means that one rear tyre must slide while cornering. This is achieved by designing the chassis so that the inside rear tyre goes up slightly when the kart turns the corner allowing the tyre to lose some of its grip and slide or go up. This is called jacking or spooling.