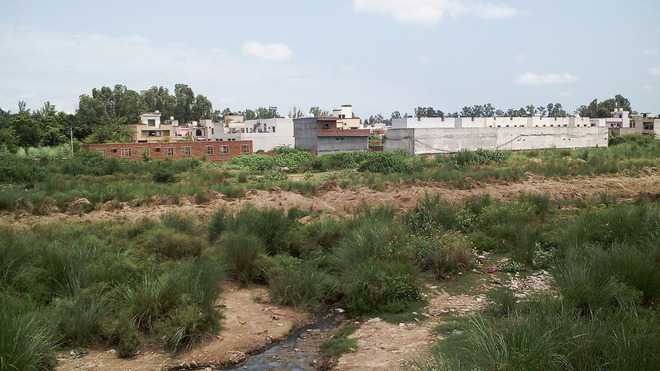 Nitish Sharma
Tribune News Service
Ambala, July 18
Residents of colonies built on the Tangri river bed in Ambala Cantonment are living under the fear of floods. Tangri is a seasonal river and the residents are worried if there is flood, it would damage their homes.
Darshan Lal, whose house is on the river bed, said: "Property dealers offered us houses at cheaper rates. Now, more than 1,700 families reside on the river bed. We had requested the administration and government to make arrangements, but they called our colonies illegal. If so, why no action was taken when the colonies were being built?"
He pointed out that residents had been issued water and electricity connections, and were paying house tax.
Nimmi, another resident, said: "The majority of residents are daily-wagers. The government asks us to vacate the houses. We are ready to do that, but the government has to rehabilitate us."
A few years ago, people had lost their belongings when water entered their homes, she said. "This year, a notice has been pasted in colonies, telling us that our houses are illegal and asking us to move to a safer place."
An official said, "There has been negligence on the part of the Town and Country Planning Department and the Municipal Corporation that they didn't object and let illegal colonies mushroom on the river bed. As a result, the size of the river has squeezed."
Deputy Commissioner (DC) Prabhjot Singh, during a recent visit to colonies, was surprised to see houses on the river bed. He asked the Irrigation Department to notify the river area so that no further construction was done.
"As per rules, no one can construct a house on the river bed. To safeguard the residents, de-silting of the river is in progress. But residents have been asked to shift to a safer place," he added.
Top News
2 others eject safely I Debris strewn across miles I Sukhoi,...
Visit comes ahead of NSA chief's US tour
Union Ministers call it part of efforts to de-colonise, indi...