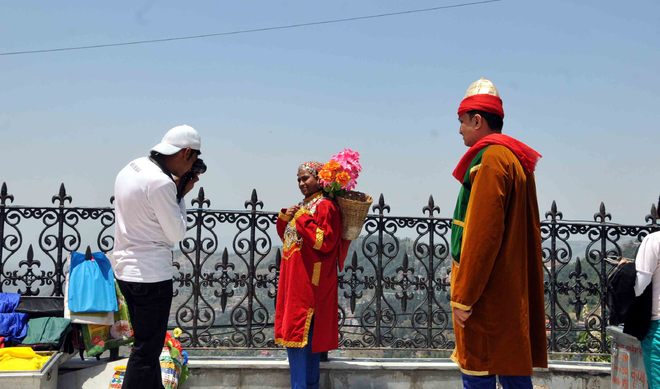 Bhanu P Lohumi
Tribune News Service
Shimla, May 28
Photography, which was once considered to be a luxury and a major attraction at tourist places, has lost its sheen, thanks to the rapid digitalisation and use of mobiles, which have emerged as "snapshot camera".
"Just four decades ago, no one imagined that technological advancement will nearly obliterate the market for camera film and force us to go digital and meekly watch the advent of 'selfie' era," said Rakesh Kumar, whose family is in the photography business for more than seven decades.
"In 1970s, cameras were manually operated and the process from clicking a photograph to developing it was nothing less than a magic for commoners. But today, developing photographs and producing prints has become a thing of the past. Most of the customers demand soft copies of photographs. As a consequence, photo studios are diversifying to multiple avenues of income such as electronics goods, photostate machines and mobile and accessories for survival," he said.
The sale of cell phones and memory cards is more than that of photographs and the online purchase of cameras has also eaten into the sale of cameras at photo studios.
Umesh Kumar, President of Shimla Professional Photographer Association, said "Everybody is a photographer today as one can click unlimited photographs till they feel satisfied and the concept of focus is immaterial."
About 50 per cent of the photo studios have shut down due to the gradual dip in business and people's disinterest to continue with the ancestral business, he claimed.
"We introduced the first colour printing machine in Himachal in 1982 and today the generation is going back to black and white photographs and drawing sketches from photographs or live sketches have come in vogue. Even in marriages, customers prefer to get soft copies and are not interested in photo albums," he added.
Arun Kumar, who has been in the outdoor photography business mainly targeting tourists at the historic Ridge ground and surrounding areas for the past 40 years, said earlier tourists, especially newly-weds, were crazy for photographs in traditional Himachali wedding dresses. Even tourists who carried their own cameras got photographs clicked by professional photographers and treasured the pictures as a souvenir from the "queen of hills".
"But now, digital cameras have ushered in a revolution and made photography 'fun' for people and with the entry of mobile phones, even the sale of still cameras has sunk, hitting our business hard," he added.
"Now, people carry their own cameras and mobiles for clicking photographs. The tradition of clicking pictures and developing these in the dark room by dipping the film in chemical is gone and our incomes have crashed to Rs 100-Rs 200 per day. We can't say how long we will be able to survive," Naresh, another photographer, said.
"It is hard for professional photographers not to feel threatened as newspapers and magazines are indulging in aggressive cost-cutting and amateur photographers are exploiting technological advances to produce stunning images," said Dinesh Thakur, a struggling press photographer.
Top Stories