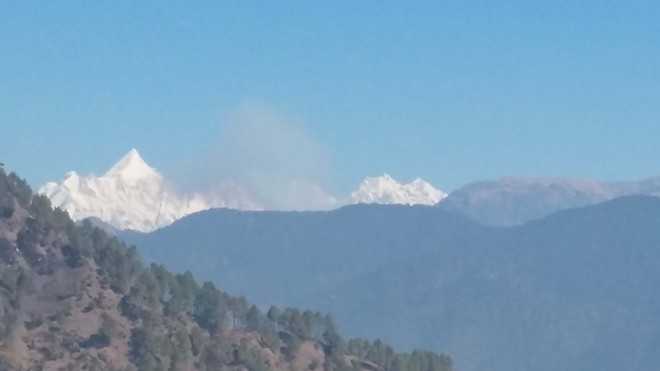 BD Kasniyal
Pithoragarh, February 3
Poachers have allegedly set the lower ridges of the Panchachuli peaks in Munsiyari town afire to kill musk deer, Himalayan black bear and other rare Himalayan animals, which are migrating from the higher reaches to the lower hills due to cold weather.
Surendra Panwar, a mountaineer who is camping in Munsiyari these days, said fire had engulfed circular ridges in Munsiyari town.
Forest officials said a team had been formed to nab the poachers. The team will report to higher officials.
"As the ridges are very tough and steep, forest personnel face difficulties reaching there. But poachers are familiar with the terrains and easily reach there. We have trained local villagers to immediately report such incidents to us," said Lavraj Pangti, range officer, Munsiyari forest division.
Runaway Nepalese boy rescued from Banbasa
A mining trader rescued a 12-year-old boy, a resident of Mahendra Nagar town in Nepal, from Banbasa here today. The boy was hiding in sand dunes on the Sharda riverbed.
"I saw a boy hiding in sand dunes. I approached him and asked him how he reached here. He told me that he is from Nepal and is a student of class V. He ran away from his house three days ago after his father scolded him for not scoring good marks in the half-yearly examinations," said Bhuwan Kashyap, the mining trader.
Kashyap said the boy had not eaten anything for the last three days and his health was in bad shape. "I took him to the Tanakpur hospital for treatment. The boy has now been sent to a rehabilitation centre in Champawat district," he added.
In another incident, a 16-year-old girl today lodged a complaint with the Champawat police that her stepmother was allegedly torturing her.
She alleged that after the death of her father, her stepmother started thrashing her and her brother. She allegedly threatened to kill them.
The girl said while her brother ran away from the house, she tolerated the torture till her stepmother allegedly made an attempt to set her afire.
The police said the girl had been sent to a protection centre. A case has been registered and further investigation is on.
Top Stories