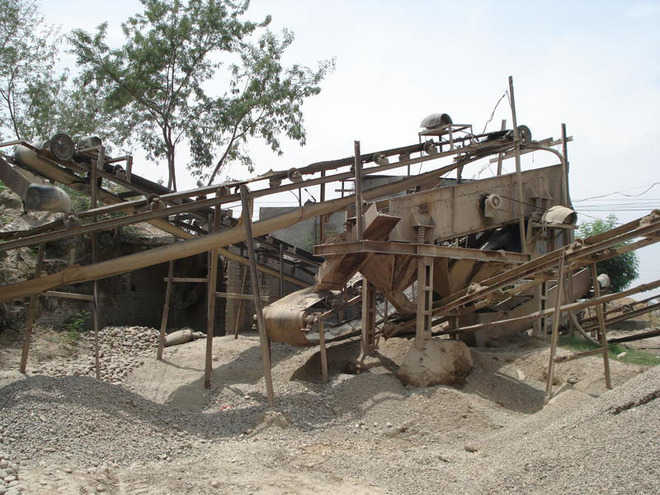 Shiv Kumar Sharma
Tribune News Service
Yamunanagar, September 21
The Haryana State Pollution Control Board (HSPCB) today issued notices to 111 stone crushers, 38 screening plants and seven mining units directing them to shut down their operation.
Sources said the regional officer of the HSPCB, Yamunanagar, had issued the notices after the chairman of the HSPCB, Panchkula, issued an order on September 20, stating that the National Green Tribunal (NGT) had permitted to the lessee to commence their mining operation, crushing and screening for three months starting June 1.
The order further said the three months period had come to an end on August 31 and no relief and extension of further period had been accorded by the NGT so far.
"A joint inspection team formed under the chairmanship of the Yamunanagar Deputy Commissioner will ensure the compliance of the NGT order of June 1 and not allow any operation till further permissions are obtained," the order said.
Mining had been non-functional in Yamunanagar district since March 1, 2010. The auction was made twice during this period, but the successful bidders had failed to obtain environment clearance from the Ministry of Environment and Forests, made mandatory by the Punjab and Haryana High Court to commence the mining work.
However, a number of stone crushers had been operational here during this period. They bought raw material from Saharanpur district of Uttar Pradesh and Himachal Pradesh.
After receiving a number of complaints of illegal mining, the NGT had issued directions on February 18, stating that no stone crusher and screening plant would be permitted to operate here.
A stone crusher owner said the closer notices issued by the HSPCB had brought a setback to the mining industry here. Besides providing construction material to the region, it also provided jobs to over 20,000 people, he said.
Top News
Was speaking to Indian journalists in Washington
Granthi Giani Jaswinder Singh from Pine Hill Gurdwara in New...
This comes amid a diplomatic row between India and Canada ov...
Heavy security deployed to deal with the situation
Family members said that all 3 accused knew Hrithik and adde...