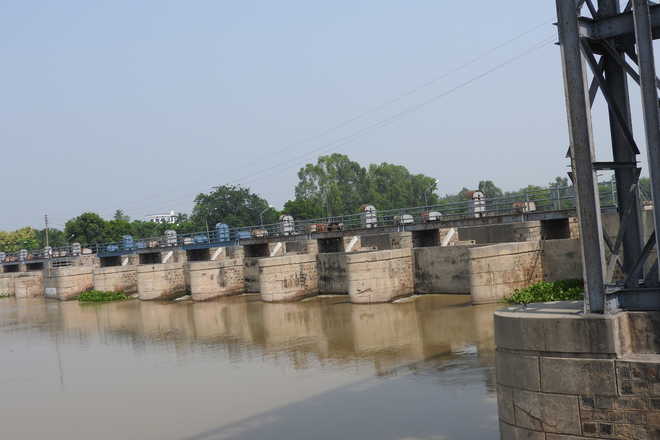 Varinder Singh
Tribune News Service
Chandigarh, July 11
The solution to silt accumulation in Harike lake — the largest wetland in North India — is finally in sight with the help of pontoon gates.
The multi-gated Harike headworks were constructed in 1953 and was located downstream of the confluence of the Sutlej and Beas rivers.
The 4,100 hectare wetland displaying a rich biodiversity had got endangered due to accumulating silt. The depth of the lake had come down from 23 feet to a mere 10-11 feet.
The flow of the Sutlej and the Beas river waters was controlled at the headworks by 48 steel gates. These gates were set up to control the flow of water and make it available to Rajasthan and parts of Southern Punjab. Excess water was going to Pakistan via the Sutlej.
Silting had taken place in the Harike lake and its catchment area over the years as 31 gates meant for flow of excessive water downstream were rusted and useless.
Flooding of the catchment area of Sutlej and Beas had almost become an annual feature in monsoons for these 31 gates meant for release of excessive water in Sutlej were hardly opened during the past 63 years.
The Irrigation Department was on a lookout for a technology which could enable it to get the gates repaired after installing alternative gates.
"Our biggest problem was that unlike other headworks, the Harike headworks were sans any grooves where alternative steel gates could be inserted temporarily," said an official.
Rust had damaged the old gates that these could not be removed for over six decades. Moreover, the replacement of gates without making alternative arrangements could have played havoc with lives of people along Sutlej," said KS Pannu, Principal Secretary, Irrigation.
A Vishakhapatnam- based company specialising in pontoon bridge technology has come to the rescue of the problem. Now, pontoon gates would be installed during the replacement of the rusted gates.
"The replacement would cost around Rs. 14 crore and the exercise would be completed by September," said Pannu.
"The water hycinth would be removed by a new machine being imported for Rs 2.5 crore, he added.
The department was also trying to control the growth of water haycinth with the help of weedicides.
Top News
Aviation Ministry had imposed lower and upper limits on dome...
Tejashwi Yadav is deputy CM
New CJI will have a brief tenure of less than three months
A bench of Justices Surya Kant and J B Pardiwala also extend...
BJP fields Sushil Modi, a long-time confidante of Nitish and...