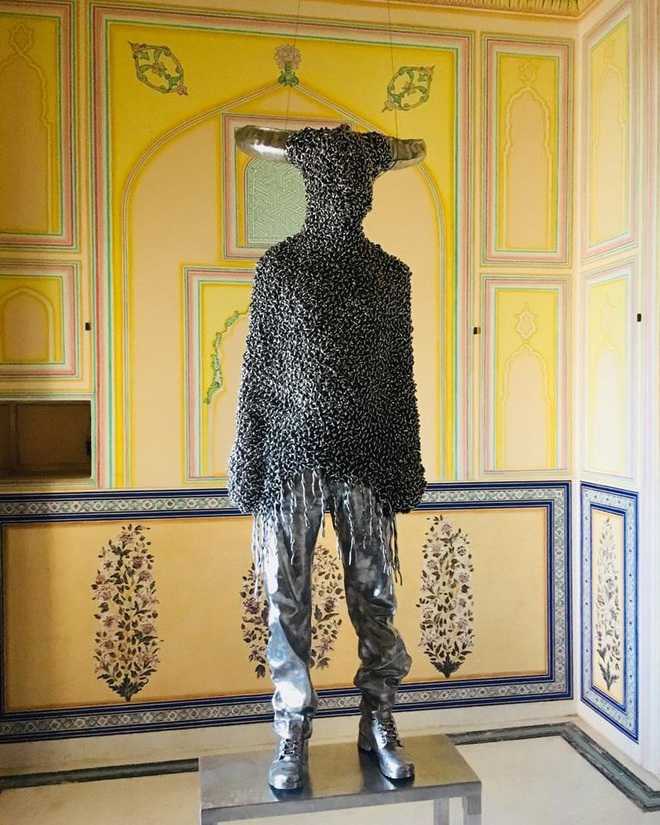 Monica Arora
The Pink City of Jaipur is known for its outstanding architecture, breathtaking colours, a warm and inviting culture and a propensity towards the arts, which dates back many centuries. Continuing this historic tradition of supporting national and international cultural and artistic causes, December witnessed the second edition of the Contemporary Sculpture Park at the magnificent Madhavendra Palace, Nahargarh Fort. A collaborative effort between the government of Rajasthan and SaathSaath Arts, the second edition has been curated by Peter Nagy. It features works by 12 Indian and 11 international artists. Interestingly, the entire programming is a result of interactions with the local Rajasthani communities, the prime endeavour being to augment learning in arts.
International artists whose works were selected include Harold Ancart of Belgium, Achia Anzi and Ofri Lapid from Israel, Lynn Chadwick, Richard Long and Mark Prime from the United Kingdom, Michael Joo from the United States of America, Belgian artist Michel Francois, Sebastiano Mauri from Italy, Mahbubur Rahman from Bangladesh and Chrysanne Stathacos from Canada. Indian artists on display are Tanya Goel, Vikram Goyal, Archana Hande, Bijoy Jain, Hemali Bhuta, Reena Saini Kallat, Shreyas Karle, Savia Mahajan, Manisha Parekh, Ayesha Singh, LN Tallur and Asim Waqif.
The main courtyard of the palace greets viewers with a sprawling installation by British artist Richard Long, entitled the River of Stones. It compels onlookers to marvel at the overall architecture of the region dominated by material sourced from the surrounding landscape, red sandstone from the Aravallis.
Another stunning creation is by multi-disciplinarian Canadian artist Stathacos. It is called Five Mirrors of the World. It comprises five large-sized circular mirrors, a hand-printed hair cloth with roses and is interspersed with Bodhi leaves. An ode to the five elements of energy, earth, sky, water, ether and fire, the installation tries to make a statement on how all species are so interdependent and thus interconnected.
Bangladeshi artist Mahbubur Rahman, also a cultural activist, has been commenting on issues of gender inequality, socio-political stigmas, stereotyping of women and many others through his art. The stainless steel installation, Transformation, is derived from an ongoing performance. Inspired by a play entitled Nuruldiner Sarajiban, the artist uses his body to depict the plight of rebelling indigo farmers in the work.
Artist Ayesha Singh dwells upon traces of subjugation and colonialism enmeshed in archictectural structures used to create modern metropolises in her installation Hybrid Drwaings. Other highlights include Tallur's installation fashioned in his characteristic sculptural style, pinpointing the predicaments of contemporary society, while Bijoy Jain's structure brings to fore the artistic instincts of the trained architect.
The exhibition is open for viewing until November.
Top News
Several centrally-protected monuments across the country lit...
Harried passengers take to social media to vent their ire at...
Lapid had stirred a massive controversy by terming Vivek Agn...
Voter turnout less than 66.75 pc recorded in first phase of ...
DigiYatra will provide seamless entry and embarkation proces...