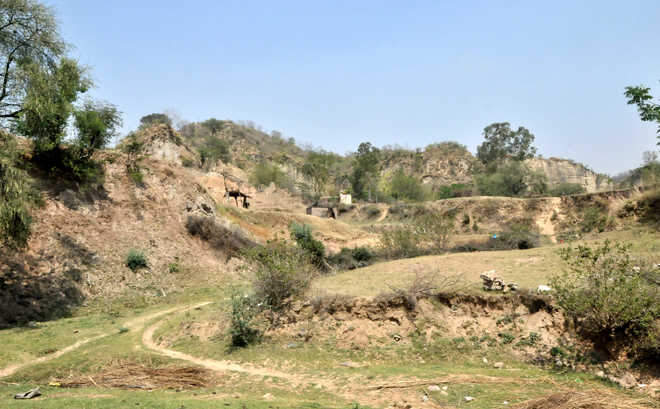 Mohit Khanna
Tribune News Service
Masol (Mohali), April 17
Priceless remains of different species of animals, some said to be even 2.5 million years old, are lying scattered in abundance at Masol village of Mohali district and are being sold for Rs 150.
Masol was in the headlines a year ago after excavations by the Archeaological Survey of India found large-size fossils of animals and even human beings. But since the ASI is yet to take full control of the land, the fossils are up for grabs. Villagers, including children or labourers, employed for digging or road construction, have sold the fossils at throw away prices to visitors, who may have sold it further or used those as show pieces in their houses.
A visit by Chandigarh Tribune to the village revealed that fossils were found more after it rained there. Small seasonal rivulets bring the fossils down from the hills and these are later visible on the stream bed.
Harnek Singh, village sarpanch, said residents or labourers have been picking up the fossils and selling these to the visitors, who come in swanky cars. "This has happened after teams of archaelogists, both from India and France, have swarmed the village in large numbers in the last five to six years. After that, many real estate dealers visited the village and have bought land."
"Some visitors and foreigners have taken these fossils for free or after giving sweets or gifts to children who had collected these. Later, some residents and labourers started selling these fossils," said Harnek Singh.
Ram Singh, panchayat member, said experts took away many fossils. Gurdev Singh and Ujagar Singh, residents of the village, said, "We heard they will examine these fissils. No one told us about the fate of the remaining fossils." The Tribune team met a group of children who showed them the fossils. One of them said he could bring fossil in the shape of a foot of a giant man or animal from his house. The children said whenever it rained these fossils rolled down the hill and accumulated in the drain of the village.Vinod Singh Rawat, Deputy Superintending Archaeologist, confirmed that they had also received reports of the fossils being sold for a paltry sum.
He said apart from the Indian archaeologists, a team of French scientists had also carried out an excavation and research in the village. "The fossils are 2.5 million years old. We have identified the area and are in talks with the district authorities for the past one year for handing over the village land to the Archaeology Department," said Rawat. Gurpreet Kaur Sapra, Deputy Commissioner, Mohali, said, "I have recently joined. I will look into the documents and also visit the site."