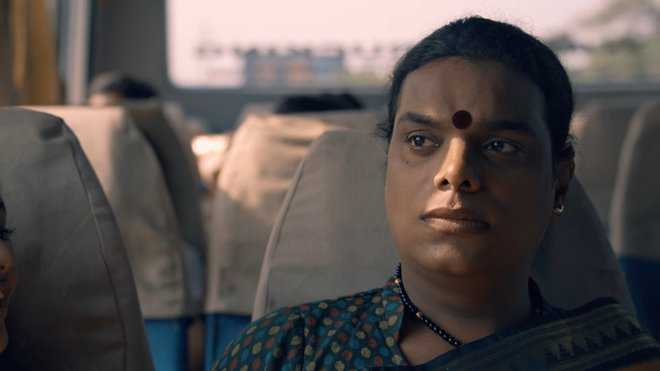 Purnima Sharma
As 16 participants waited to get onto the ramp for the finals of Miss Transqueen India, the first beauty pageant for transwomen in the country, Nitasha Biswas' goal was clear — not just to bag the coveted crown but also seek empowerment for herself and her community, especially for those who wish to get into various streams of the fashion industry. And with the crown now sitting pretty on her head, Biswas' determination has increased manifold. "The journey ahead may be tough, but that makes my resolve even stronger," says the 26-year-old who is finding her bearings as a fashion model and hopes to zoom her way ahead and fulfill her late mother's one wish — to open a home for underprivileged children.
While all this may seem like a cakewalk today, the reality for Biswas has been far from easy. "Ever since my mother passed away when I was very young, I had no one to talk to and share my feelings about my sexuality — that despite being a boy, I felt more like a girl," she says. Ridiculed for her mannerisms ("that came only too naturally to me") right through her school and college, Biswas braved on. Soon found herself a job with an online shopping site. "My aim was to collect enough money for a sex-change operation."
Although she had her father's support, she was heartbroken to find many among her friends drop by on the wayside after her surgery. "It was strange how even those who professed to be educated and modern in approach started avoiding and looking down upon me," says the writer of her soon-to-be-published autobiography, Nitasha — the Voice of Many ("The Story of My Journey"). She is now preparing herself for the Miss International TransQueen contest to be organised in March in Thailand. "Just as Sushmita Sen and Aishwarya Rai have brought laurels for India, I too want to be the first to bring this international crown for my country," she states.
Biswas is now part of a growing tribe of transgenders, who no longer accept being sniggered at for their mannerisms, feared for their 'dark' supernatural powers and thought of as fit only for singing and dancing at weddings or on the birth of child. They are working hard towards a life of respect and dignity. "And why not? Aren't we as human as the first and second genders," asks Gauri Sawant, a well-known transgender activist who puts a premium on education as a pre-requisite to leading a respectable life in the mainstream.
In 2014, when the Supreme Court passed the historic NALSA judgment recognising transgender people as belonging to the Third Gender, Sawant, who runs an NGO in Mumbai called Sakhi Char Chowghi, was the first signatory of the writ petition. "This has been a big step for us," says the effervescent 37-year-old.
"At least we have an identity now. We can now get our passports, Aadhar and PAN cards and open our bank accounts." But there's still a long way to go. "Other than giving condoms to transgenders, the government should ensure that they have access to housing and other welfare schemes as well. It should ensure that everyone is sensitised about the Third Gender. This has to be done at the grassroots level itself," says Sawant, who was born Ganesh, remembering the "mocking, bullying and harassment" she had to face from not only her classmates but even teachers at school. "As a small child, I was unable to understand why I was being ridiculed at and sidelined," she says recalling the time she wanted to grow up and be "like Usha Uthup and wear big bindis like her".
Finally, with no support from her family, Sawant left home at the age of 14, and today, after years of relentless work "with some very good people," to empower members of her community, she has many reasons to be happy. But the biggest reason for her smile is Gayatri, her adopted daughter. When five -year-old Gayatri's mother, a sex worker and an HIV patient, died, she was rescued by Sawant from being sold into sex trade. Sawant adopted her and is bringing her up as her own daughter. "I may not have a uterus but I am still a woman and would yearn to be a mother. Gayatri has fulfilled my maternal need," says Sawant, her voice filled with pride. (Vicks has made a touching advertisement on this chapter of her life). And now, she is hoping that the government will give transgenders the right to legally adopt children. "They will prove to be great mothers," she states.
Ankura Patil would more than agree. The 40-year-old, who is working with an NGO that looks after the "rights, education and health of the community is helping bring up her brother's children. "I am more of a parent to them. I attend their school PTM, help them with their homework and examinations," she smiles.
While many transgenders are forced to leave home or are mercilessly driven out, Patil counts herself lucky. However, she does confess that her parents weren't happy with her feminine traits. "With my mother gone, my aging father has no one to look after him but me," says the activist, who is pursuing her 'visharad' in music. She often pens down her thoughts in poetry. "I write poems in Marathi, Gujarati, and sometimes in Hindi too," she says. Not too far back, with her song "Panchi", she was part of the first transgender album Songs of the Caravan featuring nine artistes, who traced their experiences of pain, loneliness, angst, yearning and ambition through the medium of music.
Although she hasn't faced the problems of discrimination that transgenders have to often face, Shaine Soni did come across subtle forms of ridicule.
"I sailed through these maybe because I eventually landed into the fashion industry where there is more acceptance," says the 30-year-old. Although Soni's mother wanted her to become a doctor but a year on in the medical stream, she realised that it was the world of fashion that was beckoning her. And soon Soni found herself in NIFT. She is now an integral part of the glam world ("training girls for the national and international beauty pageants"), reality shows, theatre and films. "My short movie, KhwaishQein, traces the life of a youngster's survival in the Mumbai underbelly as he chases his dreams," she informs.
And now, post the TransQueen show, in which she was their mentor, Soni is striving to help all participants, even those who didn't win. "I have spoken to some NGOs to give employment even to those who haven't finished their schooling," she says. And some of the girls, according to Soni, will be part of the mainstream fashion shows wowing all with their style and substance.
While the transformation from a man to woman comes with its share of problems, so does the change from woman to man come riddled with its set of challenges. But Aryan Pasha, who started his medical transition at the age of 18, says his journey has been fortunate. "Right from the beginning, I knew I was a man trapped in a girl's body. So I behaved like a boy. Even my parents and other family members treated me like one," he smiles. Aryan studied in a co-education school and played sports as competently as the boys there. "No one realised that I was actually a girl, not even my friends," he says. It was only when he celebrated his 25th birthday and invited all his buddies "for a special announcement" that the truth about his sexuality was revealed. "Many of my friends actually cried empathising with the problems they felt I had to face while growing up," says Pasha, who is now concentrating on body-building in between attending conferences on HIV, etc. Ask him if girls seeking sex change have it easier than boys, and he shakes his head.
"You can't even imagine the problems some of them have to face — from being badly hit to being forced into marriage against their wishes. Even worse, they are subjected to rape within the family to coerce them to change their minds and act 'normally'," he adds sadly.
Top News
Sudha Yadav, Iqbal Singh Lalpura included in both key commit...
Security forces had on Sunday located a group of two to thre...
Kajal is MLA from Kangra while Lakhwinder Rana is MLA from N...
Centre tells SC that it's in active discussion with FIFA to ...
Meets sub-inspector Dilbagh Singh outside whose house the IE...