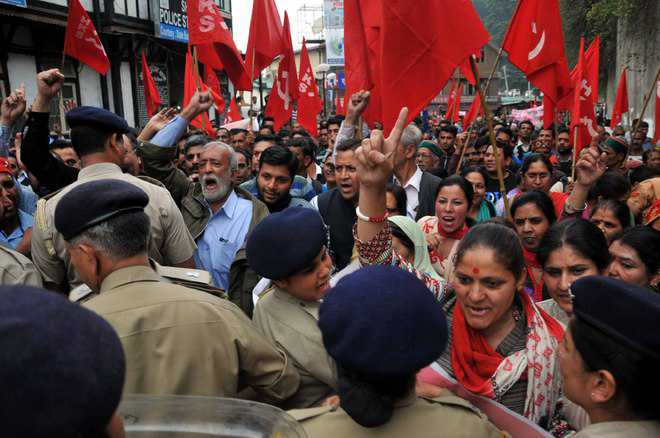 Tribune News Service
Shimla, May 3
The Himachal Kisan Sabha (HKS) and the Himachal Seb Utpadak Sangh(HSUS) today staged a protest near the Secretariat and demanded that the ruling Congress should be derecognised because the government had cut over 30,000 apple trees in violation of the High Court order.
Addressing farmers near the Secretariat at Chhota Shimla, HKS president Kuldip Tanwar and state president, HSUS, Rakesh Singha alleged that Chief Minister Virbhadra Singh on August 28 last year had stated in the Vidhan Sabha that the government would regularise 10 bighas encroached by farmers, but on the contrary the government evicted the farmers, mainly small and dalits, by cutting the apple trees.
They demanded that the government should fulfil its commitment made to farmers. They had to resort to protest as the government had done nothing for the past nine months, they added.
They claimed that the Congress should be derecognised as state government agencies had been resorting to cutting apple trees rather than pruning these as was directed by the High Court on July 27, 2015. More than 30,000 apple trees had been cut in violation of the order, they alleged.
Singha alleged that the eviction of farmers was unlawful. The proceedings should have been done under the HP Revenue Act that too only after the completion of the verification process of farmer cases under the Forest Rights Act, 2006, he claimed.
Dr Tanwar demanded that until the government constituted forest rights committees in 17,882 villages, it should stop eviction drive.
All-India Kisan Sabha co-secretary Dr Biju Krishan blamed both BJP at the Centre and the Congress government for the plight of farmers. They are facing drought, but the state and Centre were evicting them from their land, he charged.
He claimed the produce was sold for a pie and big commission agents were making profits in markets.