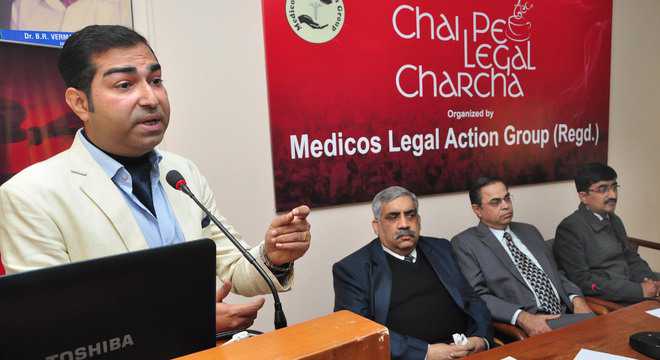 Tribune News Service
Chandigarh, February 14
Medicos Legal Action Group organised a "Chai Pe Legal Charcha" attended by over 150 ultrasonologist doctors and gynaecologists at the IMA Complex here today.
The topic for discussion was 'Criminal Prosecution under the Pre-Conception and Pre-Natal Diagnostic Techniques (PCPNDT) Act.
Dr Neeraj Nagpal, convener of Medicos Legal Action Group, said more than 100 doctors all over the country had been convicted in the criminal court of law under the PCPNDT Act with imprisonment up to five years. He said the provisions of the PCPNDT Act were draconian and frequently misused to settle personal scores.
Dr Hitesh Bhat from Mumbai, Dr Geetender Sharma from Ahmedabad, Dr Soma and advocate Abhishek were part of the expert panel and answered questions of delegates.
Dr Sharma said Maneka Gandhi's suggestions to determine sex of all foetuses may actually create more problems for ultrasonologist doctors and gynaecologists. "The preference for male child is a social problem and a bureaucratic solution will not work," he added.
Dr Bhatt stressed on the need to promote gender equality in schools, and suggested compulsory female sex selection for all infertile couples opting for in vitro fertilisation (IVF).
Dr Nagpal said witch hunting which goes on currently in the name of the PCPNDT Act had failed to improve sex ratio and in fact, since the act came into being the child sex ratio of children between 0-6 years had actually worsened. He suggested amendment of Class I heirs in Hindu Succession Act so that ancestral property could be only inherited by women.
According to him, this one amendment will solve the problem of male preference permanently. "This, however, requires political will that is lacking. It is so much easier to arrest doctors for minor clerical errors," he added.
Top News
India formally assumed the G20 Presidency on Thursday
The BSF personnel open fire after noticing the movement of t...
The move will allow more than 200,000 workers who have famil...
The 62-year-old man is booked for allegedly outraging the wo...
Full disclosure of the story will be released on the microbl...