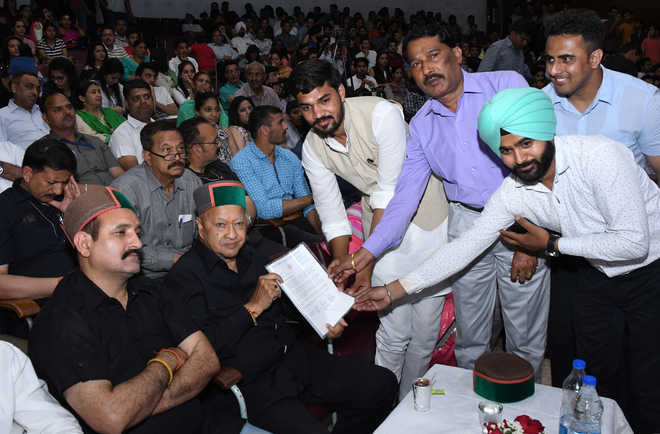 Tribune News Service
Chandigarh, April 9
The Panjab University Campus Students Council (PUCSC) has called upon the members of the PU Senate, Syndicate, Panjab University Teachers' Association (PUTA), PUSA, authorities and all other student organisations to join their movement against the Ministry of Human Resource and Development (MHRD) and University Grants Commission (UGC) to rollback fee hike.
The students and staff organisations will march to the Governor House on Monday in support of their demands.
"This is the time to show unity against this privatisation of education and to save our university," said PUCSC president Nishant Kaushal.
The students from various campus based student organisations including the SFS, INSU, PUSU, SOI and ABVP have been protesting against fee hike. Meanwhile, the Panjab University Campus Students' Council (PUCSC) today gave a memorandum to Himachal Pradesh Chief Minister Virbhadra Singh against fee hike, seeking his assistance in the matter. The PUCSC also gave another memorandum seeking the Himachal CM's help in construction of hostel on the university campus. The CM assured help in the matter.
Virbhadra Singh was in the city to participate in the cultural event 'Ek Shaam Himachal Ke Naam – 2017' organised by Himachal Pradesh Students' Union of Panjab University in Law Auditorium on Sunday. He was the chief guest on the occasion while his son Vikramaditya Singh was the guest of honour.
ABVP TO GHERAO VC OFFICE TODAY
The ABVP will gherao the VC's office on Monday to protest against the fee hike. The ABVP has called upon all students to gather near the administrative block of Panjab University at 10.30 am from where they march towards the VC's office to lock it, informed Harman from the ABVP. 10 student representatives from various student organisations will meet the Senators on April 12 to discuss the fee hike issue.
UNIVERSITY 'BANDH' ON APRIL 11
Various student organisations have called for university 'bandh' on April 11 in protest against fee hike.
SPEAKOUT
Student bodies have been protesting against the decision of the Panjab University to hike tuition fee. They are up in arms against the PU VC and Modi government.
There is a lack of understanding around the issue of fee hike. When I was a student, tuition fee for honours course was Rs 15; teachers got Rs 400 as salary; PHD scholarship was Rs 250. While teachers' salary and scholarship have gone up 100 times, the tuition fee has not. The tuition fee should have also kept pace with inflation, but it did not. If the character of PU is to be maintained as people's university, and in order to maintain the autonomy of the university, everybody has to enhance their contribution at the rate of inflation. —Arun Kumar Grover, Vice-Chancellor, Panjab University
Top News
The Sukhoi-30 and Mirage 2000 aircraft had taken off from th...
Superintendent of Police Shyam Singh said the aircraft crash...
The hearing begins hours after 'sources' in New Delhi say In...
Illegal weapons market flourishing along Pak-Af border