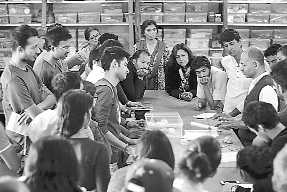 Lalit Mohan in Dharamsala
When Sandhya and Sarit Gupta were completing their IIT from Kharagpur in 1988, they would often wonder if basic science learning could be fun. They had to go a long way before they made the simple look simpler, and their lives more meaningful. Both completed their PhDs from Iowa State University (US): Sandhya in semiconductors and Sarit in electrical engineering.
Today, the Green Card holder couple live in a mud house along with their daughter, about 8 km from Palampur at Kandbari. "We achieved a lot in our careers. We wanted to be useful back in our own country. We chose Palampur to settle down because the people are simple and the environment is much cleaner," says Sarit, who belongs to Meerut (UP).
Each Sunday, students from local schools and other parts of Kangra district gather at Aavishkar centre, set up by the couple, where simple things such as plastic bottles and pipes are used to make the children understand the concept of air pressure and fractions. For other mathematical equations, images and visuals are displayed, bringing about new excitement in learning.
"I learn to be logical," says Santoli Kumari, a 9th grader. "I don't need to memorize formulae because I can derive them now," says Jyoti Kumari, an 8th grader.
Sandhya-Sarit attempts are attracting volunteers from various organizations involved in education awareness. "It made me fall in love with teaching all over again. The special thing about the Aavishkar workshop is sharing of simple yet unique ways to present content which makes it relevant, fun, interesting and engaging for both the teacher and the students," said Samuel Madtha, a volunteer from Teach for India, Delhi, who had come to attend a workshop being organized by Aavishkar.
"We keep our children confined within classrooms. This workshop made me think how to make our kids think out of the box," said Kamaldeep Dalal, Chhoti si Asha, Chandigarh.
For Sandhya, who is originally from Patna, finding an accommodation was not as difficult as choosing a school for their daughter, Shyamali Manasvi (14). "We visited government schools for the admission of our only daughter. We were surprised to see that though schoolchildren had scientific temperament, they lacked in practical guidance, forcing them not to choose science subjects. So, we decided to home-tutor our daughter. This led to Aavishkar," says Sandhya.
In 2009, the couple connected with Sambhavana, founded by Prashant Bhushan, and started simple scientific experiments to evoke interest among local students. "We then created our own centre with the help of the Palampur Rotary Foundation and Phoola Devi Help Age Foundation. Now, we are running our own centre in Kandbari where students and teachers from all over the country come," says Sandhya.
The couple carry kits of simple experiments in their car and visit government schools of the area. "The teachers are generally very helpful. We have found that many students have brilliant scientific aptitude, but they fail in expressing their ideas in writing. We try to help such students in improving their communication skills," says Sandhya. She is now busy translating simple scientific literature from English to Hindi. They are also collecting scientific literature for children. "We have a library of about 12,000 books."
The couple has also adopted many Dalit girl students from Bihar. "Once in a while we go to Bihar and teach them," she said.
The Avishkar has also got recognition from national and state bodies. It was among the top 10 national finalists out of 500 in Tata Social Enterprise Challenge held in January 2017.