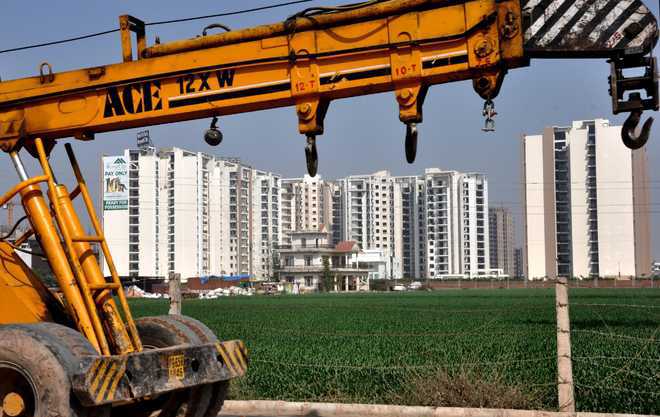 Nitin Jain
Tribune News Service
Chandigarh, November 14
Chandigarh: 2.5 kanal B-road 3 side open near lake (Rs 11 crore), 1 kanal (Rs 5.4 crore), 14 marla near park defence sector (Rs 3.3 crore).
Panchkula: Two kanal Sector 7 (Rs 8.50 crore), one kanal/17.5 marla duplex corner facing park Sector 4, 7, 17 (Rs 4.50 crore), 14 marla duplex (Rs 3 crore), 10 marla B-road (Rs 1.8 crore).
Chandigarh: One kanal B-road 11, first floor, Sector 28 (Rs 1.90 crore).
1.25 kanal kothi sale Sector 36-B, extraordinary double storey. Rate Rs 7 crore.
Mohali: Shop plot in eco city Rs 15.50 lakh. Minimum white.
100 yard SCO, Sector 88/89. Old currency. 20 yard booth, IT City. Old currency.
SCO in Eco City. Rs 1.25 crore. All currency accepted. White 70 per cent.
Eco City SCO 121 sq yards, Rs 1.05 cr. White Rs 20 lakh.
This is not fiction, but reality. These alluringly tempting from the buyer's point of view, depressingly low for the seller and never-seen-before advertisements in leading newspapers these days point to a sharp descent in real estate prices as a direct sequel to the demonetisation of Rs 1,000 and Rs 500 currency notes, announced on November 8.
The prices quoted in these commercials are almost half of those before November 8 when Prime Minister Narendra Modi conducted the much-hyped "surgical strike" on black money.
"It speaks volumes about the effect of demonetisation on property prices in the tricity," said Rajiv Lamba, who has been dealing in the real estate business for several years.
While the prices have nosedived where the seller wants the entire amount in "white" (accounted for), there are also offers in these advertisements where the sellers are trying to make hay by accepting "minimum white" and "old currency".
"Since much of the real estate business revolves around unaccounted for money, the market has crashed up to 50 per cent," a leading realtor, SK Guru, told The Tribune today.
An expert in the real estate sector, Aprajita Singh, said, "Whosoever has white money and wants to invest in property is the gainer these days." She said a 2.5 kanal house with 3 sides open on B-road near Sukhna Lake selling at Rs 11 crore spoke volumes about the demonetisation effect. "Otherwise, this type of property was not even available for Rs 20 crore before November 8," Aprajita claimed.
"Yesterday, I bought a 2 kanal house in Sector 36 for Rs 8 crore and I'm the biggest gainer today," shared Prakash Singh, an agriculturist. His gain got doubled when the seller even accepted the now-defunct currency. "The seller asked me to deposit the payment in his bank account, which I did," Prakash Singh said.
Experts and realtors are of the opinion that the seller is the loser and the buyer is the gainer in the present scenario. "Whosoever can afford and has accounted for money can buy property at half the price these days," they said, adding that the best deals were available in the market. However, they maintained that this trend was transitory.