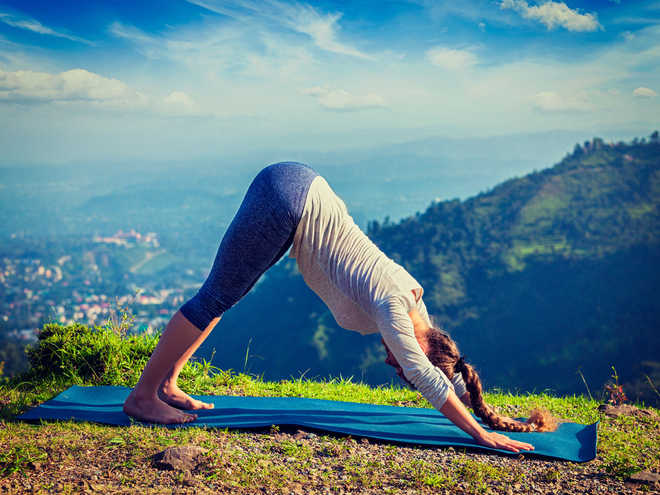 Deepa Karmalkar
Prime Minister Narendra Modi recently posted his morning fitness regimen on social media. This included stretches, pranayam and panchatatva walk. He tweeted, "Here are moments from my morning exercises. Apart from yoga, I walk on a track inspired by the panchtatvas or the five elements of nature — prithvi, jal, agni, vayu, aakash. This is extremely refreshing and rejuvenating. I also practice breathing exercises," he added.
Impressed by PM's penta-elemental track, UK-based Dr Anupama Sharma is getting one made for herself pronto. "I have a big garden and can easily incorporate the track. The ledge walking and backward walking is beneficial for body balance," she enthuses.
Yoga is the spanking new currency of the fitness world. Gone are the days when yoga was synonymous with those having stiffened joints and in the renounciation mode.
Depending on the age group, the goals today may vary from gaining core strength, augmenting flexibility to calming the mind. The destination in all the cases remains the same — the yoga mat. Doctors are emphatically prescribing it as an alternate cure for psycho-somatic issues. Marketing experts have declared yoga as "India's best cultural export". So it's time India patented it.
Brand yoga
After the UN introduced the International Yoga Day in 2015, yoga gained momentum as a fitness regime. Nike, a sportswear brand, promoted yoga pants in its campaign. There are endearing commercials on yoga too. A grandfather can be seen watching a cricket match furtively during his yoga practice in the Amazon Fire stick ad. Similarly, in the Cadbury Fuse commercial, there is a distracted yoga instructor. The most enchanting of these, however, is the Incredible India ad film The Yogi of the Racetrack. The ad shows how yoga helps a biker on the racetrack. The advertisement augured 30 million hits in 60 hours; quite a feat on the social media! Looks like yoga is turning out to be a great brand, with dedicated designer equipment and gear.
Suryanamaskar marathons
Topping the yoga charts is the 12-step full body workout, suryanamaskar. It stretches and energises the complete body and relaxes the mind. Kareena Kapoor practicing the exercise form gave it a further fillip. Now suryanamskar marathons are the in thing. International Yoga Day is celebrated with great fervour as yoga saadhaks bend and stretch into down-dog and cobra poses to clock record numbers. "I have pledged to do 1,008 namaskars this time," declares yoga instructor, Nupur Biswas.
Dr Deepa Dhole admits that her chronic backache subsided and disappeared altogether ever since she started doing yoga. She has increased the number of suryanamskars gradually. "Now I am so addicted to it that I do namaskars even beyond the stipulated count of 108," she says. "One complete suryanamaskar takes about 20 minutes. I was happy to when a marathon runner during a corporate workshop mentioned that full suryanamskar practice was equivalent to his 10-km run!"
Up the pole
Ever since actor Jacqueline Fernandez posted her pictures of pole dance workout, the pole yoga regimen has become a hit in the world of fitness. "It is very flowing, graceful and challenging; naturally people are attracted to it. Pole dance is akin to mallakhamb, wherein asanas are performed on a pole. The prop is different and the moves vary accordingly," says Nupur Biswas, yoga instructor, NuYoga. Trained in rope mallakhamb, Shruti Vasani reiterates, "Rope and pole mallakhamb are the Indian versions of 'silk' and 'pole' routine." In its revamped workout version, 'pole' yoga has been attracting men to it since it requires tremendous arm and core strength.
The path of Hatha
Look around, and you'll find yogis mushrooming. Doctors, engineers, architects, teachers, marketing honchos, showbiz and mediapersons are adopting Hatha Yoga not only as a wellness routine but also as the new mission of their lives. Nupur Biswas, producer with a news channel, switched gears and became a dedicated yoga instructor. "Hatha yoga is the foundation for advanced practices like ashtanga vinyasa. Nothing comes easy, I have to work hard to get these postures right," she declares.
Nitin Patki, an IIT alumnus and MMS (JBIMS), also opted to be a yoga instructor, "My wife Sandhya had been a yoga instructor for more than two decades but it was one visit to a yoga retreat recently that changed my life. I just knew this was my calling," say Patki, CEO, New Age Yoga and QCI certified yoga teacher.
She ran a drama speech institute, affiliated to the Trinity College London, until Shruti Jasani started her mallakhamb training. Now Shruti is another person altogether, "I decided to move to yoga completely," says the aerialist.
Paramarth Niketan in Rishikesh, Isha Yoga in Coimbatore, Ashtanga Vinyasa yoga in Mysore and Bihar School of Yoga in Munger are becoming hot destinations for practitioners pursuing the ancient wisdom of yoga.
The western world has been modifying yoga with variations like hot, cold, aqua, dog, goat and beer. While traditional practitioners of this form are not happy with modern modifications, the fact remains that this ancient science has extended its reach.
In the air
Over the last couple of years, the popularity of power yoga rose and fell. The dynamic format resulted in injuries, and even left many practitioners fatigued. But aerial yoga or 'silk', which is in huge demand currently poses no such threat, explains Shruti Jasani, professional aerialist and founder of Wooden Stage, "Aerial yoga doesn't put any pressure on the joints. It empties out the blood vessels and improves circulation." That it needs a lot of flexibility to perform is a myth, says Shruti. "According to my yoga guru, flexibility is like money — some are born with it, some have to earn it. With practice, anyone can do 'silk'." Says Namrata Khetan, a school counsellor, she took up 'silk' as a challenge, and is enjoying it thoroughly. But the fact also remains that aerial yoga owes its popularity to endorsement by filmstars like Sushmita Sen and Pooja Hegde.
---
Some quirky takes

Water works: "For pregnant women, those with joint and muscle movement restrictions due to stroke or arthritis, aqua yoga is a boon," says Sandhya Patki, instructor at New Age Yoga. Performing asanas in the water is easier due to the buoyancy. Yamini, a collegian, admits, "My first head and handstand was done in the pool." The therapeutic benefits of aqua yoga are drawing in lot of followers.
Doga: This form of yoga invites pet owners to use their beloved canine to partner them in yoga. Here the dog is allowed to be with its owner and stretch out, or even be around. It is another way of bonding with the pet. Also since it makes a good visual, one can find most social media postings include a dog as a partner, and at times, even as a prop. However, this practice has invited flak from animal activists as they feel, "the dog can't tell when it has had enough." Recently, goat yoga was introduced wherein a yoga class is conducted in a ranch in the US and 10 bouncing baby goats are let loose amid the practitioners. Touted as "animal-assisted therapy that goat yoga is about "disconnecting from day to day stress, illness or depression and focusing on positive and happy vibes."
Beer yoga: Europe and the US are constantly devising sensational ways of marketing yoga. Beer yoga, performing asanas with beer pitchers in one hand, is one such practice. Although it is being dismissed by yoga gurus as "trivialising the ancient science", the fact is youngsters are finding it fascinating. Beer yoga has arrived in India already. Right in the capital city of Delhi, and last heard, pubs in Bengaluru and Pune were joining the beer wagon.
#Snowga /Hot sessions
A couple of years ago, hashtag snowga — doing yoga in freezing temperatures was a fad initiated by some Instagram yoga stars. When skiing, they also did bending and stretching in the snow, at times, using the ski as a prop. And oh boy, snowga soon had takers. Likewise, hot yoga practices seek to replicate the heat and humidity of India and the westerners began sweating profusely in artificially created heat of their yoga studios. "In India, as it is we are doing hot yoga", laughs Nupur Biswas. Dr Anupama Sharma, a fitness adherent, cautions that humid conditions are conducive to the spread of infections. So next time you are in a hot yoga studio and you catch a cough, you know where it started!
Top News
Jammu and Kashmir Lieutenant Governor Manoj Sinha and politi...
Cops say case cracked within three days with the arrest of a...
Indonesia football association suspends league to investigat...
Samajwadi Party patron is under treatment in Gurugram hospit...
DGP dismisses Mansa CIA Incharge, FIR registered against err...