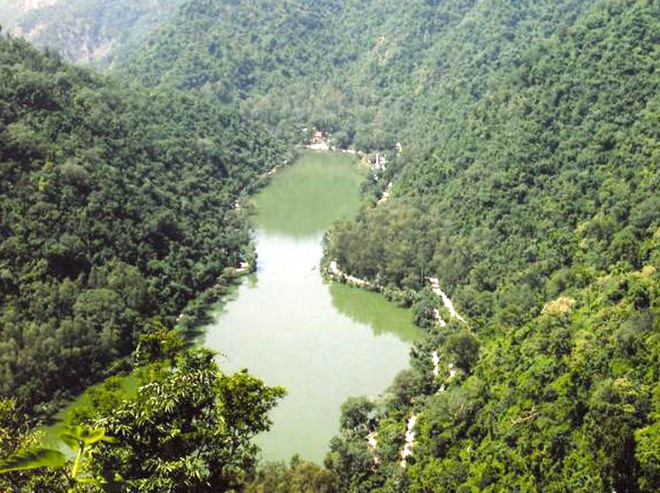 Kuldeep Chauhan
Tribune News Service
Shimla, May 20
As the Modi government has pushed 175-m-high Renukaji Dam that will supply 23 cumecs water to Delhi in deep freeze, the state government has sought Rs 1,981.35 crore assistance to start work on the project or it will cancel the land awards given to the project-affected villages, which otherwise expire in July this year.
Though the Centre has given forest clearance to the project early this year, it has not responded to the state despite Himachal Power Corporation Ltd (HPCL), which has been allotted the project, has sent 14 reminders to the Centre to release Rs 1,981.35 crore, but to no avail, rued officials.
State Power Minister Sujan Singh Pathania led a delegation and met Sadhvi Niranjan Jyoti, Water Resource Minister, and apprised her about the Renuka dam fiasco, revealed sources.
As per the condition of the MoU signed with four states of Himachal Pradesh, Delhi, Uttar Pradesh and Haryana on May 12, 1994, HPCL will construct, operate and maintain the project while Centre fund it.
Himachal has sought 90 per cent grant for the 40 mw power component for which the Centre had agreed in principal last year, but not a penny has been released, revealed sources. Because of the deadlock, the cost of the project has shot up from Rs 3,572.19 crore to over Rs 5,000 crore for the last 21 years.
DK Sharma, managing director, HPCL, said : "If we get Rs 1,981.35 crore, we will pay the award and expedite the project as power component cost must be funded by the Centre. The state has just received Rs 200 crore in past 21 years, but nothing in the past one year and deadlock continues".
Renukaji Dam
The project seeks 901 hectare forest area which will affect 1.72 lakh trees and saplings
It needs 1130 hectares private land for which the notification has been issued.
Delhi will get 23 cumecs of water daily
The dam will store 49,800 ha m of water for use in signatory states