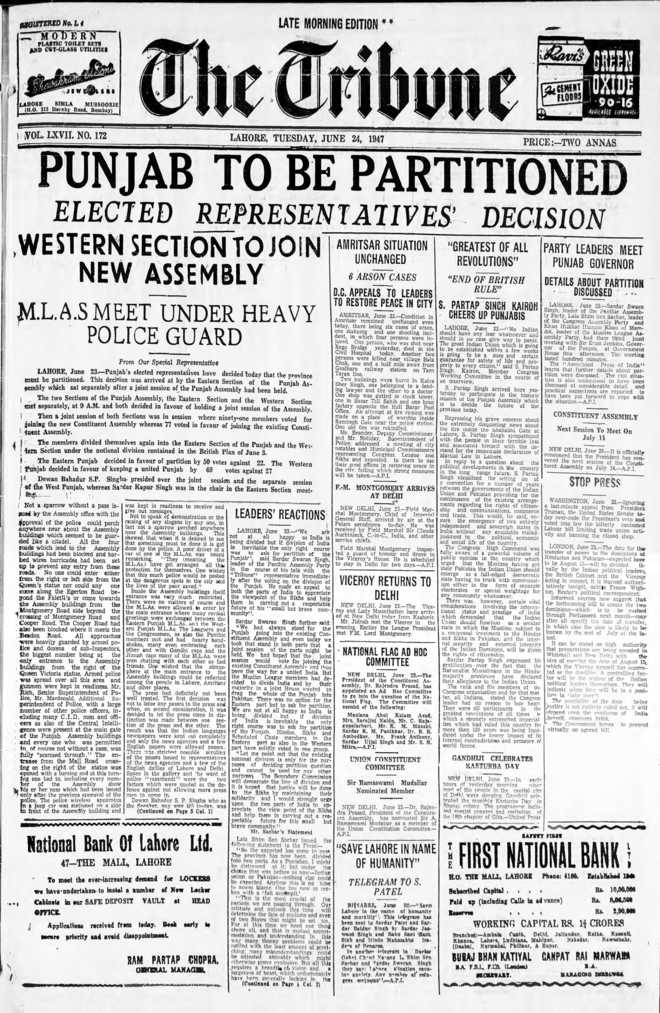 Roopinder Singh
The Tribune, ever the chronicler of the people and events of Punjab, found itself in an unusual situation of becoming the subject of news reports. In the days leading to Partition, two employees were killed in Lahore, one was stabbed. The Tribune ceased publication in Lahore on August 16, 1947. A truck and a car evacuated 94 staff and some of their family members. The printing press it left behind, newsprint, typewriters and a van were given to Pakistan Times by the West Punjab Government. Just 40 days later, on September 25, 1947, the newspaper resumed publication — from Simla. Yes, the printing press was small, staff inadequate, and finances badly crunched, but the paper gave a voice to the people and made them aware of events that were shaping their lives.
A perusal of the files shows that it was on Wednesday, April 9, 1947, that The Tribune had a banner headline "Proposed Partition of Punjab and Bengal"; another one, "Maharaja of Patiala Urges the Princes to Join Constituent Assembly." Even then, there was hope. On April 21, the banner headline read: "No Partition of Indian Now".
However, reality soon sunk in, and on June 21 and 23, the headline declared: "Bengal votes for Partition", and "Punjab to be Partitioned," with another item highlighting the worsening situation in Amritsar where "100 bombs [were] exchanged by rival mobs." Details about how various institutions and assets were to be divided are fascinating — instant records have a compelling intensity, even as the fluid situation makes for patchy, chaotic historical narrative.
The August 15 issue declared: "India Wakes to Life and Freedom." It reported on the historic session of the Constituent Assembly for New Delhi. From Karachi came another report: "Birth of Pakistan an event in History" and another one titled "Goodwill and Friendship with Britain and Hindustan Qwaid-i-Azam Jinnah's Aim." Thereafter, the staff was forced to flee from Lahore.
By October, when The Tribune resumed publication in Simla, the horrific deaths and displacement of millions dominated the reporting. There is the story of how Hindus and Sikhs were wiped out in Miani, a village in Pakhtunkhwa. Another day, another story. This about the "Ill-fated train from Pindi to Dadan Khan; Witnesses' Account of Loot, Murder and Abduction," even as an adjoining item says "Retaliation Denounced: UP Communists Appeal for Peace". On October 5, the banner headline is: "4 Columns of 1,15,000 Marching to India: 30,000 Hindu and Sikh Refugees Cross Border. Muslims attack Convoy Near Janarwala."
A separate story on this page details the efforts of The Tribune's Refugees Forum, wherein displaced people made efforts to contact their loved ones. By the end of the year, On December 5, 1947, The Tribune was able to announce: "Hindus and Sikhs Evacuated from W. Punjab. Colossal Task Completed Within Allotted Time. Small Pockets Yet to be Cleared. Over 8 Million people cross border."
One aspect of the task may have been completed, but there was so much more. A new country was being run. This region and its people had borne the brunt of Partition. Millions of lives had been lost, many more millions displaced, rendered homeless, and many families torn apart in the days that led to the Independence of India. The Tribune was, once again, the chronicler of Punjab, serving the people of the state.
Top News
CM Uddhav Thackeray reshuffles Cabinet, removes 9 rebel mini...
The Budget remains silent on giving Rs 1,000 to each woman i...
Complaint was filed in Uttar Nagar police station on June 25