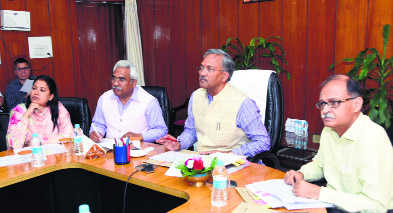 Tribune News Service
Dehradun, July 23
The stock taking exercise of development activities by Chief Minister TS Rawat of seven Assembly segments falling under Bageshwar and Almora districts of Kumaon division on Monday turned out to be satisfactory for the BJP MLAs, while the Congress MLAs were left dissatisfied.
Out of the two Congress MLAs, senior Congress leader and MLA from Jageshwar Govind Singh Kunjwal skipped the meeting on the ground that the government was not releasing money for the projects sanctioned during the tenure of the Congress government.
"They have not sanctioned any funds for construction of roads in my area. The previous Congress government had sanctioned Rs 100 crore for an institute (Hari Prasad Parmaparik Shilp Sansthan). The project is hanging fire due to lack of funds. Similarly, Jageshwar was to be promoted as a centre for international yoga but for the last two years the present BJP government has not showed any interest," rued Kunjwal.
On the other hand BJP spokesperson and Uttarakhand Minister for Urban Development, while briefing media persons, said, "The MLA was absent today. He was not even present during the programme of the Chief Minister in Jageshwar when announcements for the area were made. The MLAs should be serious about their work. As such no proposals came up", he said.
However, Kunjwal said that he was present during the CM's visit in Jageshwar. "I had welcomed him at the airport and had submitted a plan for establishing a sewerage treatment plant at Jageshwar as the sewerage water from the houses is falling in the nearby Jata Ganga," he said.
Similarly, Congress MLA Karan Mahra from Raniketh, who attended the meeting, was dissatisfied with the entire exercise. "The government is not keen on taking up development activity in the Assembly segments from where the Congress MLAs have been elected," he said.
However, Madan Kaushik said that in Raniketh Rs 2 crore has been sanctioned for a road project.
On the other hand Surendera Kumar Jena, BJP MLA from Salt constituency in Almora district, said that most of the road projects in his constituency have been approved.