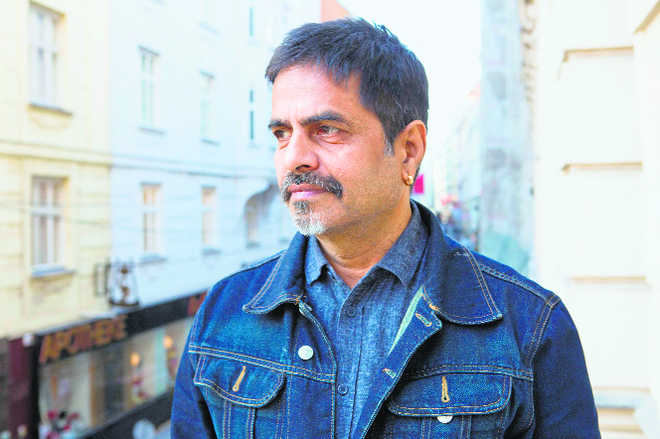 Neeta Lal
Located between Europe, Asia and the Middle East, Turkey is a meeting point for diverse influences and traditions. Set between the crossroads of Europe, Asia and the Middle East, the 14th edition of Turkey's leading annual art fair, Contemporary Istanbul, recently brought together one of the most electric collections of modern art from across the world.
Over 74 galleries from 22 countries, including South Korea, Argentina, Palestine, France, Germany and the US showcased works of over 500 artists during the fair's run from September 12 to 15. The Indian flag was kept flying by multimedia artist Sudarshan Shetty, 57, who works in painting, sculpture, installation, video, sound and performance. Shetty has exhibited widely in India and more recently abroad where he is increasingly becoming an important voice in contemporary art. He tells us about his upcoming projects, contemporary Indian art and the pitfalls of commerce in the creative field. Excerpts from an interview…
How was your experience at the art fair?
It was a very good experience to have an opportunity to see some of the creative works that come out of Turkey. The art scene here seems to be very active and some artists are making great works. Turkey is a meeting point for diverse influences and traditions. Set between the crossroads of Europe, Asia and the Middle East, it showcases a lot of amazing talent.
What kind of response did your work meet?
The pieces that I showcased at Contemporary Istanbul belong to an earlier show, Pieces Earth Took Away, presented at Vienna in 2013. That show consisted of six pieces made as a set of six concocted death rituals and a futile attempt at recalling life in the past. Although my work here is centered around ideas that are essentially personal in nature, I'm pleasantly surprised at the various conversations it has generated around itself.
How was this fair different from the others that you've attended?
Sometimes fairs can be difficult places to really look at art. They function as an important part of the market which, in turn, can be beneficial to an artist's ambition. However, in Istanbul, I was happy to see a lot of local artists' works and get a glimpse of contemporary Turkish art.
What are you working on at the moment?
I am currently working on two larger shows slated for 2020. One is entirely based upon reconstruction of old materials from dismantled homes in and around Mumbai and the other project includes a film that I am writing a script for along with objects that one may see in the film and outside of it.
What are your views on contemporary Indian art?
Much has changed in the contemporary art scene in India over the last three decades that I have been active as an artist. There are some very exciting times ahead with a larger number artists in practice. It's heartening to see younger artists producing some high quality works. I see a very bright future for the art as we have come a long way with the establishment of some private museums and not to mention the Kochi Muziris Biennale being a pioneering effort that has generated much excitement across Asia, indeed the world.
What are you most excited about?
I am curating the visual art section of the Serendipity Arts Festival to open this December in Goa. I am putting together a show with indigenous social inventors, poets and musicians. This is an effort to look at the basic human need to 'make' and its impact on the communities, large or small, around each of these inventors.
How important is commerce in creative fields?
Commerce is an important factor for the well-being of an art system. But I am also aware of its drawbacks as it can be fairly easy to succumb to it once an artist finds a certain level of acceptance. However, one must be aware of its pitfalls as well and should be able to use it largely to realise one's artistic ambitions.