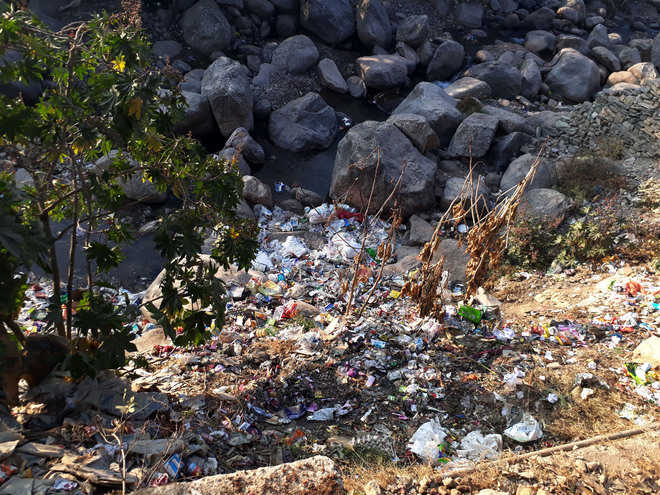 Lalit Mohan
Tribune News Service
Dharamsala, January 10
Rivulets are turning into dumping grounds in Smart City Dharamsala. People are dumping solid waste of their houses into natural drains, chocking most of the rivulets in the town.
Rajesh, a resident of Dharamsala, said, "I dump the waste in the adjoining Charan Khad because there is no dustbin in my area and natural drain is the only place where we can dispose of the waste."
Krishnan, an IT engineer, said, "We have created a pit in our office for dumping the organic waste. However, there is no place to dump the solid waste. People have dumped the waste in the Soli Khad that passes through Dari village near Dharamsala. We have tried to educate people but they do not listen."
In Dharamsala, the MC has kept dustbins at some places. The authorities said about 14 to 15 metric tonnes of solid waste was generated daily. It increased in the tourist season.
To handle such a huge amount solid waste, the Dharamsala MC has just 44 garbage containers and 47 small dustbins. Officials of the MC admitted that the civic body was short of about 30 garbage containers and about 50 small dustbins.
They, however, said the MC was not buying more garbage containers as the people were not allowing them to keep them near their houses or commercial establishments.
Many areas in Dharamsala do not have any dustbin or garbage container. Civil Lines, the most posh area of Dharamsala, does not have any dustbin. Residents dispose of their solid waste and garbage in natural drains.
Top News
2 others eject safely I Debris strewn across miles I Sukhoi,...
Visit comes ahead of NSA chief's US tour
Union Ministers call it part of efforts to de-colonise, indi...