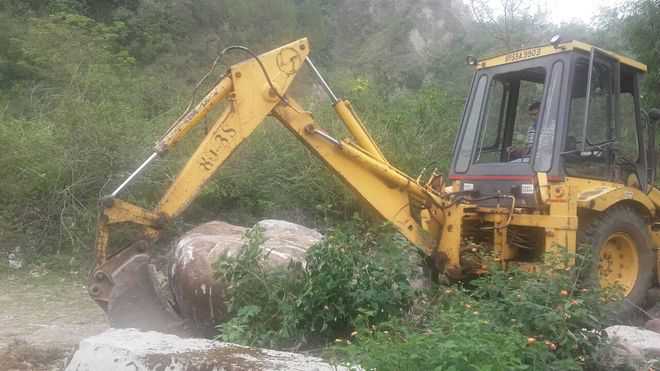 Ravinder Sood
Palampur, June 20
Roads, constructed by the mining mafia to lift stone sand and other building material near Nagri, were today dismantled in the presence of Palampur SDM Ajit Bhardwaj and a heavy police force. He closed all the roads leading to the mining site.
Local residents had filed a complaint to the SDM that illegal mining was going on in the area posing a serious threat to the environment. Villagers had also complained that if no timely action was taken, there could large-scale erosion, which could damage residential houses and agriculture land.
The SDM, along with a police force and JCB machines, reached the site and dismantled all the roads constructed by the mafia and also installed a barrier of heavy stones. However, members of the mafia had already fled the spot before the arrival of the SDM and the police force.
Notably, the SDM with the help of police force and PWD officials, had undertaken a similar exercise in Bhora area of Palampur where the mining mafia was active and damaging public property.
Despite the state government ban on mining in all rivers, hills and local streams of the region, large-scale illegal and unscientific mining and quarrying have been going on unchecked in this area. It has not only created environmental imbalances, but also caused a huge loss to the state exchequer.
The illegal mining has resulted in large-scale deforestation, landslides and flash floods. Over 25,000 hectares has been affected by mining, quarrying and other constriction activities.
Top Stories