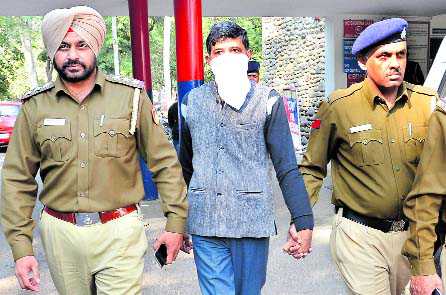 Tribune News Service
Chandigarh, December 14
The Enforcement Directorate (ED) seized Rs 2.19 crore — new currency notes valued at Rs 69,35,500 and Rs 1.5 crore in demonetised currency — during a raid at the house of a local businessman in Sector 22 last night as part of its operations to check hawala trade in the wake of demonetisation.
The "illegal" cash was stashed in a bed box, a trunk and a bag, officials said. A large number of notes were in serial number, said sources.
A case has been registered against Inderpal Mahajan, owner of Mahajan Cloth House, Sector 30, who has been arrested.
The raid began at 7 pm and lasted seven hours. DSP (Central) Ram Gopal said a probe had been initiated to establish the source of the new currency. He said bank officials involved in the case would also be arrested.
Mahajan has been booked under Sections 420 (cheating), 120-B (criminal conspiracy) and 409 (criminal breach of trust) of the IPC and the Prevention of Corruption Act, 1988. Sent to four days' police remand by a local court, he will be questioned on the bank officials who assisted him.
The illegal cash comprised Rs 1.50 crore in demonetised currency, Rs 49.80 lakh in Rs 100 denomination, Rs 17.74 lakh in Rs 2,000 denomination, Rs 12,500 in Rs 500 denomination and the rest in Rs 10, Rs 20 and Rs 50 denomination, senior officials said.
Four lockers have also been seized in the operation, led by ED Deputy Director Gurnam Singh.
Talking to the media outside the police station, Mahajan claimed he was "being trapped". (With inputs from agencies)
Top News
Action taken under relevant Section of Unlawful Activities (...
Says wants it to commit constructively to establish facts
Blinken says it is 'important for India to work with the Can...
Pawar and Adani first inaugurated a factory at a village in ...
More than 175 people have been killed and several hundred in...