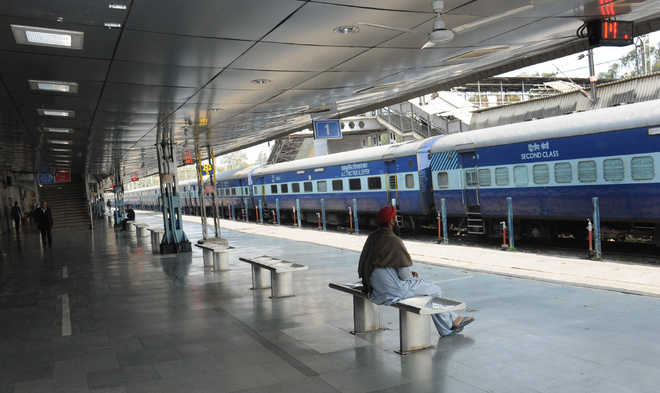 Rajinder Nagarkoti
Tribune News Service
Chandigarh, February 20
Prices of air tickets soared as the road and rail connectivity between Chandigarh and Delhi remained disrupted due to the ongoing Jat agitation in Haryana today. The prices of air tickets from Chandigarh to Delhi have shot up from Rs 2,000-Rs 5,000 to a whopping Rs 20,000-Rs 27,000.
City-based taxi operators have also stopped operating between Delhi and Chandigarh due to the stir.
Chander Verma, a businessman in the city, said, "My daughter and son-in-law are to come from Delhi tomorrow. They had decided to come by road, but dropped the idea since the highway between Delhi and Chandigarh has been blocked by the protesters. Now, they have booked air tickets for Rs 20,000 each."
Echoing a similar view, Anil Anand, owner of a tour and travel company, said, "Usually, air fare between Chandigarh and Delhi ranges between Rs 2,500 and Rs 4,500. But this morning, customers taking a flight on February 21 were charged anything between Rs 18,000 and Rs 27,000 for a ticket. In the evening, no air ticket was available for February 21."
Another tour and travel operator, Vaneet Sharma, said the air tickets were available only in the morning and ranged between Rs 20,000 and Rs 27,000. They had advised their customers to postpone their plans due to the agitation, he said.
Dalip Singh, owner of a city-based taxi operator firm, said they were not sending their taxis to Delhi for the last two days. "I don't want to risk the lives of my customers and drivers," he said.
Top News
Resignation sent to Governor Banwari Lal Purohit for final a...
The attack comes days ahead of the celebration of the 75th I...
Abdul Rauf Azhar, born in 1974 in Pakistan, was sanctioned b...