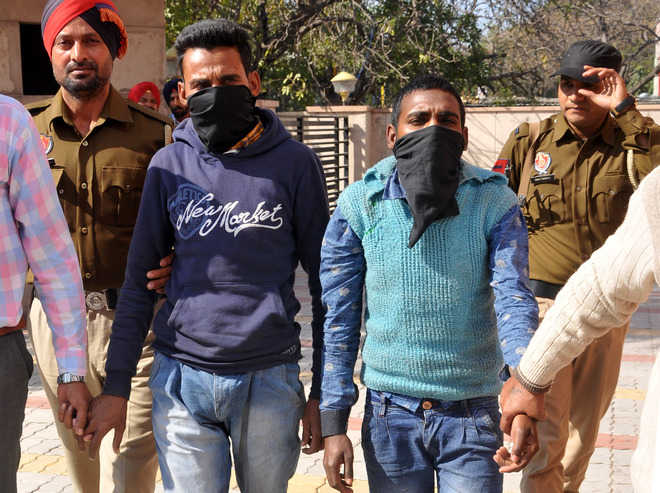 Tribune News Service
Mohali, February 10
The Mohali police today cracked the Rs 43,000 snatching case at Phase I by arresting all three miscreants within 24 hours of the incident.
The police arrested Surinder Singh, a resident of Gill village in Ludhiana, and Raj Kumar, alias Badshah, and Bhajan Mahtoh, both hailing from Bihar, who stay in Ludhiana, and recovered the snatched amount and the taxi used in the crime.
Mohali SP (City) PS Bhandal and DSP Alam Vijay Singh said the accused came from Ludhiana to Mohali to commit the crime. The police got a lead from the registration number of the Indica car and found its owner, who told them that the vehicle was given to Surinder Singh for commercial use.
"When we nabbed Surinder Singh, he confessed to the crime," said the police.
A joint team of the Mohali CIA wing and the local police, led by Inspector Atul Soni, nabbed all accused.
The police said the trio had snatched Rs 7,000 from Malerkotla four days ago and had made another unsuccessful attempt at Nabha recently.
"They came to Mohali yesterday morning to look for an easy target. As part of their modus operandi, the trio went to the State Bank of India to keep an eye on persons having a large amount of money.
"After narrowing down on Arjun, Bhajan started talking to him and snatched the amount from him," said the police.
The accused will be produced in the court tomorrow.
A case in this regard has been registered at the Phase I police station.