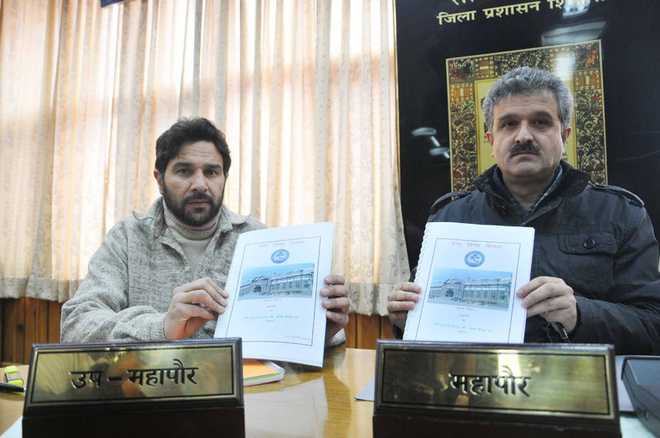 Kuldeep Chauhan
Tribune News Service
Shimla, February 25
Shimla Mayor Sanjay Chauhan today presented the Rs 166.72-crore tax-free budget of the Shimla Municipal Corporation (MC) for 2015-16.
"The budget targets to create new parking lots, ropeways and tunnels to decongest the city, starting the much-awaited pink taxis and golf cart and aims at generating extra source of revenue from collecting pending house tax and proposed green tax," the Mayor said in his speech.
"It aims at constituting ward committees that will get Rs 30 lakh for each ward to improve basic amenities of every ward of the capital city," he said.
The Mayor made a fervent bid to raise MC's resources asking the government and national highway authorities to allow them to collect green tax, transfer city forests from the Forest Department to the corporation and Rs 100-crore capital city grant.
"We expect to enhance the income to the tune of Rs 18 crore from the pending collection of property tax and Rs 8 crore from green tax as they have sought NOC from the highways authorities," he said.
Chauhan said they sought Rs 100 crore as capital grant from the state government, but got nothing. "The 10 per cent increase in the state grant is nothing as corporation lost the major source of income when the octroi was abolished in the 1980s, but the government has not compensated for that loss," he said.
The Mayor highlighted Central and other agency- funded projects for urban housing, sewerage, garbage collection, parking-cum-shopping complex, improvement of public transport, ropeways and tunnels, which would start in a year once the modalities were completed, he said.
The 30-member House after mild debate approved the budget, which was earlier approved by the Finance, Contract and Planning Committee, chaired by the Mayor.
The budget left behind uncovered deficit of Rs 44.4 crore, which was a jump of about Rs 10 crore over the last year's budget.
The Mayor said: "The revenue and capital expenditure adds up to Rs 166.12 crore, while the corporation earns Rs 121.72 crore from various sources. This has left behind a deficit of Rs 44.40 crore for 2015-16."
In 2014-15 Shimla had a tax-free budget of Rs 156.64 crore that had left behind the uncovered deficit of Rs 30.12 crore, a jump of about Rs 31 crore as compared with 2013-14.
He said under the decentralised planning, each ward committee would get Rs 30 lakh grant, while Rs 15 lakh would be given to every councillor under the councillor priority fund. But Congress councillor Sushant Kapret debated this point saying that the budget was confusing on this as there was no earmarked fund under these heads, as ward committees had not been constituted so far.
He said water, electricity on streets, good roads and better sewerage connectivity, children parks, playgrounds, new public toilets, two labour hostels, battery-operated golf carts and pink taxis for women would start soon.
Chauhan said about 1,800 people got skill development training, but councillors pleaded that the companies that provide such training, must be made accountable and at least 70 per cent people should get jobs. "We will set up two city livelihood centres for this. A grievance redressal helpline has also been launched," he said.