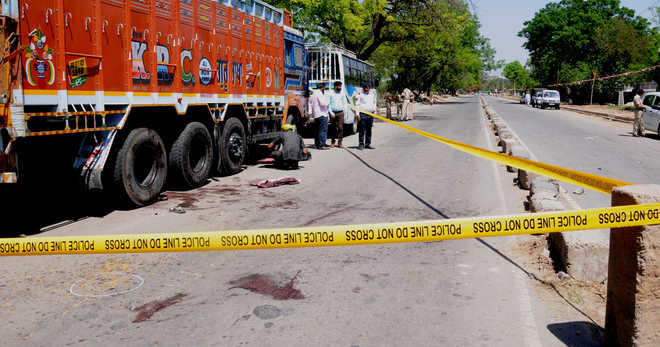 Tribune News Service
Chandigarh, April 9
A 38-year-old sarpanch of Khurdan village in Hoshiarpur district was shot dead in full public view by four assailants outside a gurdwara in Sector 38 (West) this morning.
The police said prima facie it seemed that of the seven bullets fired, three hit the victim. However, the exact number of bullets would be established only after the postmortem.
The injured was rushed to the PGI where he later succumbed to his injuries.
Sources said the victim, Satnam Singh Bittu, along with his family and devotees, had come to Chandigarh on Saturday night to pay obeisance at the gurdwara.
The victim's wife, Kamaljeet Kaur, said the entire family was at the gurdwara when her husband got a call from someone around 11 am. "The person asked my husband to come out of the gurdwara after which he went out," she said. Soon, gunshots were heard from outside the gurdwara after which people rushed outside and found the victim lying in a pool of blood.
The sources said the victim tried to take cover under a truck parked on the road. However, he could not save himself. The accused managed to escape from the spot. A relative of the victim said four persons were seen escaping in an i20 car that had a registration number of Ludhiana.
Three accused have been identified as Bobby, Arshdeep and Teerath, while the fourth accused is yet to be identified.
The incident led to panic in the area. The injured was immediately rushed to the PGI in a private vehicle.
The police were informed following which UT SSP Eish Singhal and other police officials rushed to the spot. The SSP said preliminary investigation revealed that the incident was a fallout of an old rivalry. "Seven bullets were fired of which three bullets hit the victim on his right arm, left thigh and right foot.
A team of the Central Forensic Science Laboratory (CFSL) visited the spot. The police have recovered empty shells of 12-bore and 9-mm weapons from the spot.
A case of murder has been registered against all accused at the Maloya police station and efforts are on to arrest them. The police said the accused were aware that the victim had come to Chandigarh and they followed him.
The sources said a police party had been sent to Punjab to nab the accused.
Old rivalry likely reason: SSP
UT SSP Eish Singhal said the incident was a fallout of an old rivalry.
Victim's brother, father were murdered too
Victim Satnam's brother Nishan Singh was murdered in 2013 and he was an eyewitness in the case. Bobby, one of the accused in the murder case, wanted Satnam to turn hostile, but he refused. On Sunday, Bobby, along with three others, came and shot him dead. In 1990, Satnam's father Sampooran Singh had also been shot dead.
Top Stories