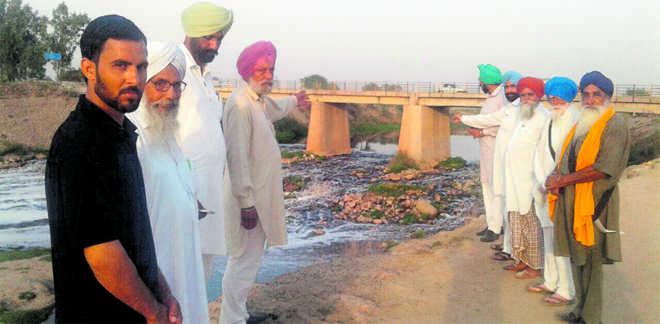 Sushil Manav
Tribune News Service
Chandigarh, April 3
With the authorities showing little resolve to address the problem of pollution in the Ghaggar, residents of Ratia in Fatehabad have decided to launch a "Ghaggar Bachao, Zindagi Bachao" campaign under the guidance of environmentalist Balbir Singh Seechewal from April 6.
On an invite from the Jat Samaj Sabha, an organisation of the Jat Sikh community of the area, the Padma Shri awardee, who rose to prominence by spearheading the resurrection of the 160 km-long Kali Bein rivulet in Punjab's Doaba region, will visit Ratia on April 6.
"We have discussed with him the problem faced by people living in villages along the Ghaggar due to heavy pollution of industrial effluents and human waste in the river. He has assured to lead the campaign to liberate the Ghaggar from pollution," said Tejinder Aujla, general secretary of the sabha.
(Follow The Tribune on Facebook; and Twitter @thetribunechd)
He said people living in villages along the Ghaggar had been falling prey to diseases such as cancer and hepatitis.
Naib Singh Mandher, another office-bearer of the organisation, alleged agricultural land along the Ghaggar had been affected and water from tubewells and handpumps installed in the area had been contaminated.
Sabha president Gurdeep Singh Chahal said Seechewal would be received at Kamana bridge over the Ghaggar.
After examining the pollution level in the river, he will be taken to Gurdwara Ajitsar in a procession. Seechewal will raise awareness about the dangers associated with pollution and discuss ways to build pressure on the government to address the issue.
"Under his guidance, we will take up the matter with various state governments and ask municipal bodies of the towns falling along the Ghaggar to set up sewerage treatment plants instead of dumping waste into the river," he added. Samples taken recently near Chandpura in Fatehabad and Ottu in Sirsa showed the biochemical oxygen demand level in the river water at 25 to 30 mg per litre against the normal 3 mg per litre.
Top Stories