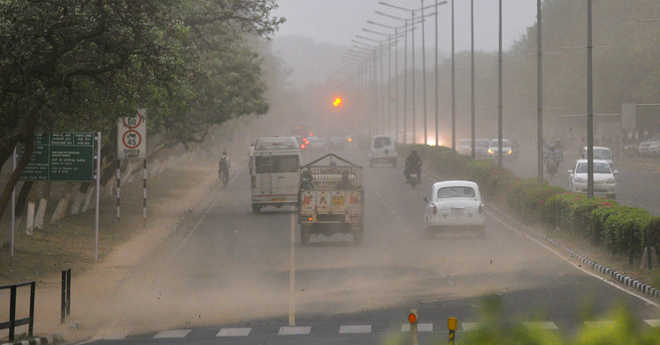 Tribune News Service
Chandigarh, May 23
A high-velocity dusty wind, which hit the city in the evening, left residents of many sectors without power for hours together.
Though the people heaved a sigh of relief from the heat wave conditions, they had to bear with power cuts in many sectors. The power cut was caused after branches of trees fell on electricity wires. The affected sectors were 23, 24, 25, 17, 19, 18, 21, 22, 23 41, 44, 8, 7, Burail, 37, 38, 39, 40 and parts of villages.
Surinder, a trader in Sector 17, said unscheduled power cuts after a storm had become routine. Complaints continued to pour in at the complaint centre in the evening.
The residents complained that they could not get through to the complaint centre as the phone remained busy most of the time.
Pawan Kumar, a resident of Sector 22, said power supply was snapped after the storm and was restored after a one-and-a-half hour ordeal.
An officer of the department said they started restoring the power supply soon after the storm was over in many affected areas. However, many residents complained that the supply was not restored for hours.
Top News
Gehlot's written apology appears to be the tool to broker pe...
'Our priority is to win 2023 assembly polls in Rajasthan for...
Congress Legislature Party leader Partap Singh Bajwa demands...
Rape includes marital rape for purpose of MTP Act
Decision comes after review of perceived threat perception t...