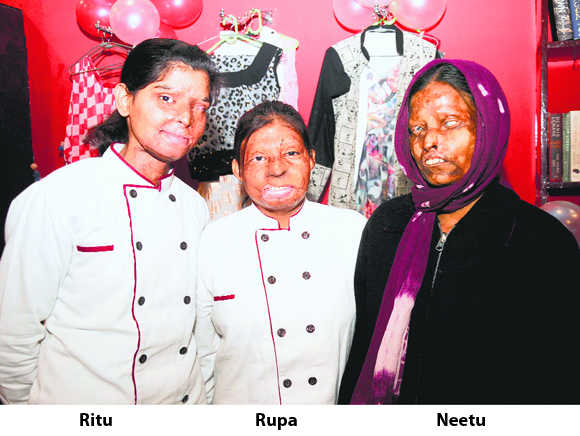 It took 10 seconds at the most, a flick of the wrist and her life turned topsy-turvy, forever. The corrosive liquid ran down her soft skin, burning deep, leaving indelible, inerasable marks on her face, her body, her soul. The pain was unparalleled, unimaginable. Acid melts the flesh and, at times, also the bone.
What followed was the worst bit — pitiful, even horrified, glances, followed by social stigma and rejection.
Nineteen-year-old Ritu often wonders why no one among the crowd which had gathered to gawk at her writhe on the ground right in the middle of a busy road in Rohtak that fateful day come forward to help her. "Onlookers crowded around as I lay squirming in pain. No one came forward to help. Maybe if someone had immediately taken me to a hospital, my eye could have been saved," she says.
"Even the lady doctor in Delhi (the victim of the latest acid attack at the hands of a jilted lover) kept crying for help for long… we saw the video," Ritu adds angrily. But no one knows when a jilted lover will decide to teach a lesson for a lifetime to the person he claimed to love, or when a close relative will decide to scar the face of a teenager in a revengeful act against her parents, or when a father will pour the searing liquid on his own off-spring on a night he has had one too many.
Invariably a premeditated crime, acid attack easily classifies as one of the most vicious forms of hateful revenge.
Punishment, if any, is hardly compensatory to the loss and pain. In fact, in many cases, the attacker manages to get away without any. The fact is that a chemical attack seldom kills. But it disfigures and devastates the victim's life in every possible way — mentally, psychologically, physically and financially. According to activists working with acid attack survivors, even if they do manage to get immediate medical help, which is rare, many remain disfigured for life.
As time passes, the physical pain may dull, but it never really goes away.
Acid violence is a global phenomenon but it largely occurs among the not-so-well-off and specifically against women. The worst part is that instead of offering support, often the society shuns them. "I have seen horrified mothers covering their children's eyes," says Rupa, another acid attack survivor. They are held responsible for what happened. Says Neetu, another braveheart survivor: "My mother (Geeta is also an acid attack survivor) is often asked what she did to provoke her attacker, my father."
Strangely, instead of the attacker being punished or banished, they are cast out into a dark corner, face covered and invisible to the world. "I used to cover my face even inside the house," says Ritu, who suffered at the hands of her stepmother. In many cases, like that of Lakshmi, the founder-member of Chhaon Foundation and the campaign "Stop Acid Attacks", the attacker even tried to move on and got married while on bail. Currently, he is behind the bars though.
Hope of change
It may look small, but change has started to happen. The Sheroes' Hangout in Agra, a unique concept initiated by the campaigners, is a heartwarming story of the significant transformation that is taking place in the lives of these young girls and those responsible for putting it together (see below). Ritu, Rupa and Neetu no longer hide their faces. They wear it like a medal, smiling proudly and confidently. They pose for our camera in front of the "selfie point" outside the café. "Why should we hide our faces? What have we done?" Neetu questions, smiling.
Disfigured at the age of three by her own father, she can barely see. But the courage and hope that lights up her face makes her beautiful, again. Ritu, Rupa and Neetu — three girls with stories so similar, yet so different. Often, acid attack survivors are charged with provoking their attackers. It is strange because the pain inflicted upon Ritu, Rupa and Neetu was caused by a close relative. The acid thrown on them shattered their lives, but they refuse to break. The Sheroes, our heroes.
Ritu: Full of life, lifeline of Agra cafe
Hear her speak and you will feel as if you are talking to a typical teenager, bubbling with energy. The anger, the hurt inside has left the spirit unscathed. Clearly the life of the Sheroes' Hangout, she flits in and out, helping with orders and managing the counter. Ritu is from Rohtak (proper city, she says) in Haryana.
May 26, 2012 is etched in the 19-year-old's memory. The attack was engineered by her bua to settle a property dispute with her parents. "My aunt Rajwanti wanted to target my parents. Why did she destroy my life I don't know, what had I done?" Ritu is still trying to look for answers.
Even after what she had done, the bua wanted her parents to "sort out, settle" the matter. "Can anything, any amount of money bring back my face and my dreams? I used to play volleyball. Now look at my life. I have already had six surgeries and need many more before I can go for plastic surgery, which is a very expensive. Even after that, things will never be the same again."
Ritu's left eye is completely damaged. "Had someone helped me that day, my eye could have been saved. I appeal to people to help those in distress. Don't just stand around discussing kyon, kaise."
She was wearing a red dress that day. "It was a colour I had never worn before." In the days that followed, the colour became a nightmare for her. "On May 26 last year, Lakshmi didi celebrated the day by making me wear a red dress designed by Rupa didi," she says.
She has a question for the authorities — is anyone adhering to the Supreme Court ban on the sale of acid? The attack on Ritu involved 18 persons. Three convicts got a life term and two a 10-year term, she says.
Ritu dreams of becoming a painter. On what's next, the teenager offers: "Let life settle down first."
Rupa: Dress designer in the making
Rupa wants to become a dress designer and dazzle the ramp with her creations. This dream has been given wings by young activists working with her at the Agra café, some of whom have left high-profile jobs. The café has a wall displaying some dresses on which Rupa worked with her mentor. She proudly talks about her meeting with famous designer Manish Malhotra.
It was her stepmother who had poured acid on Rupa while she slept in her house at Islampur Ghasaoli village in Muzaffarnagar district of Uttar Pradesh.
The date was August 2, 2008, and Rupa was 15. She says her stepmother had even removed water from around her so that she did not survive. "She wanted to kill me from the day my father married her when I was two and my brother just 10 days old. Apparently my father had told her that he had only one child — my brother."
The torture, she recalls, started from day one. "She even tried to poison me. Then my grandparents took me to Faridabad. When they passed away, my stepmother took me back to the village, hoping to usurp some 50,000 rupees my grandparents had collected for my marriage."
Once again the torture began, ending with the acid attack. "She had wanted to kill me. She knew that I was aware of her illicit relationship with another man," says Rupa.
Her uncle took her to the Safdarjung Hospital in Delhi where she was admitted for around three months. Since then, Rupa has had seven surgeries. But in absence of any outside help, the treatment is now beyond his capacity. Her stepmother continues to live with her father.
Does she miss her father? "For what? I am with my family. This is my home," she says. She now stays with Ritu in a rented flat in Agra.
Neetu: Loves to sing, and smile too
The attack on Neetu was caused by her father Inderjeet when she was barely three years old, disfiguring her completely. Thankfully for her, there are no old photographs to cry over. Even the memories of the day 20 years ago and the pain that followed are hazy.
Neetu and her baby sister were at their maternal grandparents with mother Geeta when her father threw the acid at them. "We were sleeping on the top of a fruit cart. I fell down and Krishna bore the brunt. She died after 15 days." Neetu was left with a completely disfigured face and very little vision. "I can make out that you are sitting," she says, the smile not leaving her face.
Her mother Geeta suffered vision loss and scars on the face. She continues to live with the same man. Neetu says her mother looked after the family working as a domestic help. After the attack, Geeta had another daughter, who also helps out in the cafe after school.
When Neetu was around 14, Geeta tried to settle her down by marrying her to a physically disabled man who promised to get her cured. "He told my mother that he would get me treated. But soon he started physically abusing me. Now he is no more," she says.
How does it feel to live with the man responsible for the acid attack? "Majboori hai, kya karen?" Neetu answers. Her dream is to become a singer. "I have sung with Shibani Kashyap. Do you know her?" she asks. And which song did she sing? "Dil ke arman aansuyon mein beh gaye," she says. Everyone around sheds a tear, she smiles.
There is very little she can do at the cafe but coming here fulfils her purpose: to be a part of the campaign against acid attack. "When someone talks to me, supports me, I feel that life is alright." It isn't.
10 demands

of 'Stop Acid Attacks'

campaign
1) A concrete law under which acid attack is categorised as violence against women, physical, mental and sexual assault
2) Categorise acid attacks under heinous crime, with life term as the minimum sentence
3) Fast-track courts, where cases are decided within three months
4) Government must constitute an agency to process the cases of acid attacks and help the victims get justice
5) Appoint protection officers to deal with threats and potential risks to women's safety to stop acid attacks
6) Acid attack victims must be given complete legal support to ensure they do not have to struggle to get justice
7) Centre and state governments must facilitate victims with compensation and jobs
8) Governments must take responsibility of treatment of acid attack victims
9) Open sale of acid for domestic purposes should be controlled and preferably banned
10) Government must take steps to rehabilitate acid attack survivors with counselling and other provisions
---
Standing up for victims, against attacks

Alok Dixit, the founder-member of Chhaon Foundation which runs the Sheroes' Hangout cafe in Agra and "Stop Acid Attacks" campaign, with partner Lakshmi, an acid attack victim herself.
Their aim is to bring together acid attack survivors and rehabilitate them, say the young men who manage the Agra café, aptly named Sheroes' Hangout, along with the survivors.
Alok Dixit, the founder-member of Chhaon Foundation, explains how it all began. "Initially we stated as an awareness campaign with an aim to connect the survivors. There is no reliable data available on acid attack survivors and there is also no coordination between them," he says.
The campaign is how Alok prefers to refer to the group "because of negatives attached with the word NGO". He says it's been able to directly connect with 50 survivors. One of them is Lakshmi, Alok's live-in partner and one of the eight founder members of the "Stop Acid Attacks" campaign.
Since it started in 2013, the group has been able to collate data of 2013 and 2014, which has thrown up some startling details. Despite the ban on the sale of acid, Alok says, as many as 300 cases of acid attacks took place in these two years.
The campaign's aim is also to increase the content about the scourge in the media. Plastic surgery, says Alok, has its limitations. "There are budgets depending upon the extent of damage and the hospital where the treatment is going on. For example, to what extent the damage can be treated. How much is the skin available to be able to do that? Then the costs, for example Ritu was given Rs 20 lakh by the state government but her treatment is being carried out in a private hospital, which would cost much more."
The café was opened on December 10 last year. "It started with crowd funding because we are aware of the general perception about NGOs. We do not take money either from the government or the corporate sector. Till date, we have also received no foreign funding. We try to work within our resources. For us, Chhaon Foundation is a campaign for which we work day in and out," says Alok.
It was an acid attack way back in 2002 in Kanpur, his hometown, which initiated him to do research on the issue and resign from the Indian Air Force where he was employed in the logistics section.
The group's initial aim was to set up a small shop for acid attack survivors Geeta and Neetu so they could make a decent living. But after the successful beginning at Agra, the group is planning to take it to Kanpur, Delhi and Mumbai.
"Like any other person, I like beauty, but for me its concept is different. As they say, beauty lies in the eyes of the beholder. For me, the thoughts and the time I share with Laxmi are beautiful," Alok points out.
At Sheroes too, the ideas of beauty and importance of appearance are often the talking point. There is a readers' cafe, an activism workshop, a community radio hub and an exhibit space, where works crafted by survivors are displayed. The walls of the cafe proudly display poses of acid survivors in designer ware. The cafe serves food and beverages, but the menu card has no price list. You pay as much as you want.
The campaigners recently held a 10-day serial hunger strike at the Jantar Mantar in New Delhi to draw attention of the Central government and Parliament towards the menace of acid attacks.
An awareness campaign is continuing online to make the elected representatives aware of this hazard, says Pranav Dwivedi, one of the members.
Top News
7 others, including Ahmed's brother Khalid Azim alias Ashraf...
Writes to Mohit Rajan, Deputy Secretary in the MS Branch of ...
Amritpal's counsel on the other hand contended that he was i...
During the intervening night of March 27-28, BSF troops dete...
Sukhwinder Singh ran a finance business in Manila for the pa...