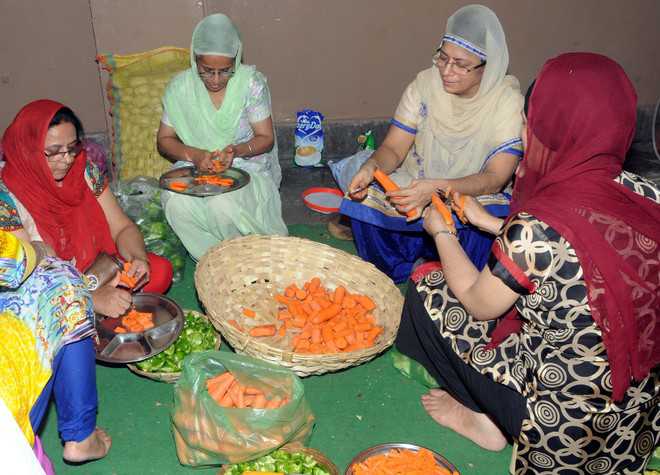 GS Paul
Tribune News Service
Amritsar, April 13
For the first time, two international organisations —Eco Sikh and Akhand Kirtani Jatha — will serve organic 'langar' to devotees on the occasion of Baisakhi. It will continue till April 14.
The project administrator of Eco Sikh Gurjit Singh said, "It is our campaign to set up a direct producer-consumer set-up. To start with, our aim is to make our gurdwaras green. That's why we introduced organic 'langar' on the occasion of Baisakhi.
"With our limited resources, it is a reasonably good start to arrange Baisakhi 'langar' at Sewa Singh Hall located on Sultanwind Road. Gurmat programmes are being held at various gurdwaras, but all devotees have been told to partake of organic 'langar' at Sewa Singh Hall only," he said.
Farmers from Jalandhar, Hoshiarpur and Phillaur who are into growing seasonal vegetables and spices the organic way, have turned up to supply food items for the 'langar' in Amritsar.
Recently, on an experimental basis, the SGPC dedicated 40 acres at Gurdwara Gurusar Satlani Sahib to develop it as a model organic farm and the agricultural produce generated from there is being used to prepare 'langar' at the Golden Temple.
Manit Malhotra, who owns a farm spread over 47 acres at Bambiwala in Jalandhar cantonment and is head of Amrit Punjab self-help group, said, "Agriculture has to be made a business model. We have been given a kisan hut in Red Cross Bhawan at Jalandhar by the district administration to self-market our organic products. Besides farm fresh seasonal vegetables, 'methi' (fenugreek) and mushrooms, we offer organic products for direct sale like oat gelled with 'shakkar' (powdered jaggery), almond drink, jaggery, green chillies, apple vinegar, eggless and 'maida'-less biscuits etc," he said.
A farmer from Hoshiarpur Narinder Singh said that farmers from various districts have come under the umbrella of Natural Farming Association, a non-governmental organisation, to self market their organically grown produce.
"Organic farming is viable for farmers if the produce is marketed directly. That's why we have created a group to facilitate self-marketing of different vegetables and products. It will be lighter on the consumers' pockets too. In Punjab, we have around 500 member farmers. It was Pingalwara Society's Master Rajbir who encouraged us to go organic," he said.
Another farmer from Phillaur Upkar Singh was excited to talk about the organically grown banana, guava, turmeric, mushrooms in his 4.5 acre farm.
Top News
Reserve Bank projects GDP growth at 6.4 pc for 2023-24
SC says the new bench will consider granting open-court hear...
US officials have briefed its friends and allies including I...
The incident takes place during the intervening night of Feb...