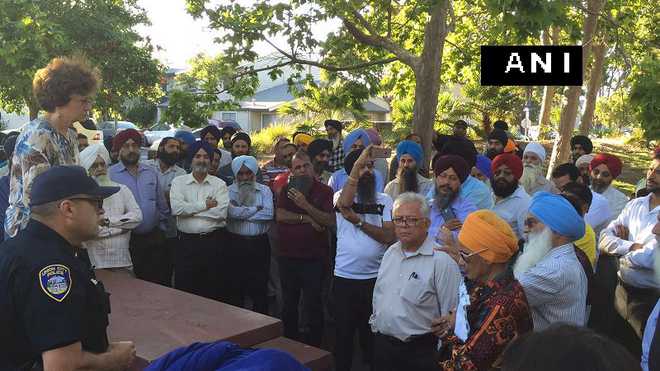 California, August 11
Sikhs of California's Union City held a protest on Thursday after a copy of Guru Granth Sahib was found in shreds on Wednesday.
"The incident took place last evening, when somebody tore the holy book into pieces. This has riled up the people of our community. We will take up the issue and we expect American authorities to bring culprits to book," American Gurdwara Committee coordinator Pritpal Singh said.
Union Minister for Food Processing Harsimrat Kaur Badal said India must demand the "strongest and urgent" action against the desecrators.
"I'm going to meet Sushma ji (External Affairs Minister) and appeal to her that India must demand the strongest and most urgent action so that the perpetrators in California are brought to book immediately," Harsimrat Kaur said.
She told ANI the decimation of religious scriptures was taking place and now was happening in California.
"I appeal to Sikhs worldwide to realise what these enemies of the nation and enemies of Punjab are trying to do by disrupting peace and development of Punjab. Now, they are doing the same there (in California), but the sufferers are going to be Punjabis and nobody else," Harsimrat said.
Subsequent to the incident, California mayor Eric Garcetti arrived at the protest site and assured the protestors of penal action against the miscreants who have attempted to hurt their religious sentiments.
According to reports, police have registered a complaint in the matter. — ANI