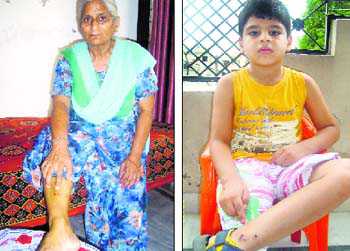 Hina Rohtaki
Tribune News Service
Panchkula, July 26
Seven-year-old Tejas, a resident of Sector 25, was sitting inside his room and having his meal when a monkey entered from the rear door and attacked him. Tejas was bitten on his left leg.
Residents of Sector 25 are living in constant fear of monkeys, who have attacked them even inside their houses. Eleven persons, including an expectant woman, have fallen prey to the simian menace in the past one week.
Sudha, a housewife and local resident, was bitten thrice on her leg by monkeys in one go while she was in her house with her mother-in-law. The monkeys entered from the rear door, which the victims had left open. In another incident, a college girl was attacked at her place. "My younger daughter, Hita, was bitten by a monkey at home. She suffered bites on her leg," said the victim's father, Sudhir Dhiman.
A 30-year-old woman of the same locality tried to fight monkeys when they sneaked in from the door of her house, but she was attacked. "My children were trembling with fear when they saw the monkeys moving in the drawing room. I tried to shoo them away using a plastic chair, but they bit me and my maid on the leg," said the victim, who didn't want to be quoted.
Anita Dhiman (64) was walking in her neighbourhood when she was attacked. "On Wednesday morning, when I was going to buy milk, a monkey suddenly bit my leg. I cried for help," she said.
Maharaj Krishan Lall, a local resident and former director, State Board of Technical Education and Industrial Training, Punjab, made several efforts to wake up officials of the Wildlife Department out of slumber and do something about it.
"After repeated requests, wildlife officials have installed cages in the area. Monkeys reach the trap, eat bananas and then slip away," said Lall. Savitri, a maid, told Chandigarh Tribune how she ran for her life when monkeys chased her after seeing a packet in her hand. She was bitten on her right leg after she fell.
Costly treatment
The treatment for a monkey bite victim comes at a price. The victim has to take injections, including five for rabies, which costs about Rs 330 each," said a victim.
See also page 2
Top News
Injured children aged between 22 months and 3 years: Police ...
Wankhede moved the high court last month seeking quashing of...
AAP accuses the BJP of creating a ruckus at the event
Waste was being burnt, which allegedly resulted in the explo...
He has been awarded forfeiture of three years' seniority of ...