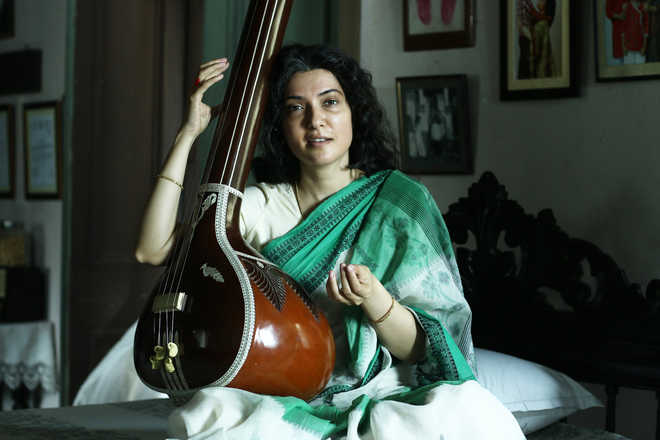 Lalit Mohan Joshi
This year's highlight of the London Indian Film Festival (LIFF 2019) was Bengali cinema. Srijit Mukherji's latest thriller Vinci Da turned a hot favourite of Indian as well as western audiences. A London-based English teacher, Robert Aghajanian, was floored. "Besides being a master thriller, it prompts you to think more deeply about responsibility and guilt. To me, it shows that life is more intricate, more nuanced and has lots of shades of grey. It invites you to make your own mind as to who are the goodies and baddies in life."
A talented make-up and prosthetic artist, nicknamed Vinci Da after Leonardo da Vinci because of his prodigious skills, gets unwittingly drawn into a psychopathic legal expert's criminal plans to rid Kolkota of evil. This edge-of-the-seat psychological thriller has been superbly orchestrated by Mukherji.
The 10-year-old London Indian Film Festival appears to have finally arrived. There is more variety in terms of different kinds of films from different parts of India. "This year is probably our strongest programme ever with exciting world premieres, rarely seen archival masterpieces, and some seriously cutting-edge dramas and documentaries, in 23 venues across 5 UK cities and towns. We invite you to immerse yourself into the cinema of a billion lives", claims the executive and programme director, Cary Rajinder Sawhney.
The 10-day festival in London (which began on June 20) screened 25 feature films and three film events with filmmakers Anurag Kashyap and Gurinder Chadha and actress Radhika Apte. LIFF had humble beginnings until five years back when the Bagri Foundation came on board as its principal sponsor.
"I have seen it grow slowly each year", says Sunayana Panda, a Puducherry-based Indian film critic who has regularly attended the festival. "It has taken time to attract good films and filmmakers."
Another impressive Bengali film at the festival was Arjunn Dutta's debut Abyakto (Unsaid), a poignant tale of a mother and son. The story encapsulated the unusual journey of Indra right from his childhood, adolescence to being a grown man. A series of unexplained events which turn him into a man he never ought to be. "I have always been intrigued by interpersonal relationships but it's not a personal story, it just came organically to me. I have heard of such cases where family secrets are not revealed. Often we tend to take everything very casually, we don't think what the other person or our parents have suffered all through their lives.I also wanted to show that any kind of love is beyond any gender barriers", says filmmaker Arjunn Dutta.
"Abyakto creates an ambiance full of languor and a sense of tragic unease. The filmmaker has sharply contrasted the young protagonist (Indra) and his pretty partner's modern Delhi home, with the stately, old and rambling Calcutta mansions with ornate Victorian furniture and décor. The shots of torrential rain, background music and Indian classical music are moving," says social historian Kusum Pant Joshi.
After its debut at Cannes, Rohena Gera's Hindi love story Sir (2018) created much buzz this year. The audience loved the film for its narrative restraint which kept them tense and full of empathy. There was an undercurrent of class division which flowed as a subtext throughout the film.
"I found the script very good and realistic. Rohena chose two people from extreme sides of the social class ladder — a wealthy man who has been living abroad and a maidservant from a village. The end, though sad, was positive. The filmmaker left the ending open to many possibilities" says Sunayana Panda.
Watermans also held international premiere of Anjali Bhushan's seminal documentary My Home India. The film essentially uncovered a little-known story of unimaginable humanity, generosity and kindness. Towards the end of Wold War II, the Polish ambassadorial team in Bombay, led by the determined heroine, Kira Banasinska and supported by local Indian communities, including principalities of Kolhapur, Jamnagar and several others, dispatched a convoy of food relief and other essentials, thousands of miles to Iran, where Polish refugees from Soviet Siberian labour camps had found their way on foot and were suffering.
An expedition was planned with a novel idea to bring 5,500 women and children to India which became their home. Replying to a question Anjali Bhushan said I had nothing to do with this story but felt if not me who will tell this story.
LIFF should get credit for having grown in variety of films and screening venues. It is to be seen how it now meets the challenge to building similar audiences as it has in central London. It also needs to look even deeper into regional Indian cinema and change the myopic Bollywood perception among the British South Asians as well as native British that there is this other intelligent Indian cinema that needs to be seen.
Top News
In Mizoram, Zoram People's Movement is locked in close race ...
Defence acquisition projects include procurement of 97 Tejas...
India has constituted a probe team to investigate allegation...
Nikhil Gupta, 52, has been charged with murder-for-hire in c...
GDP growth in the first quarter of current fiscal — April-Ju...