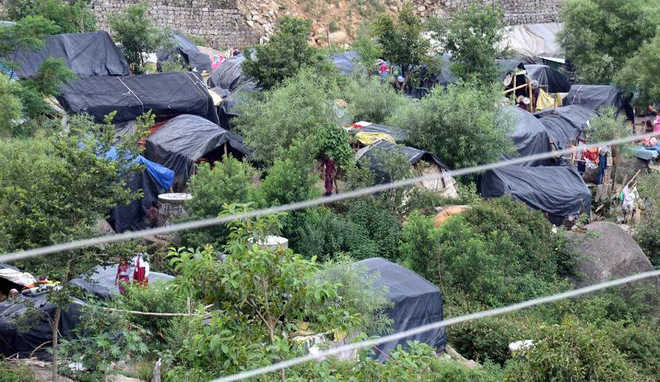 Panchayats refuse them land on rent
Lalit Mohan
Tribune News Service
Dharamsala, June 24
Slum-dwellers who were evicted from the Charan Khad area of Dharamsala last Saturday are again on road. They are being forced to spend nights in the open in the rainy season as the residents of the villages where they were to be rehabilitated are refusing to accept them.
Sources here said the Dagwar panchayat had resolved against those villagers who had given land on rent to the evicted slum-dwellers. After this, the villagers who had initially given land on lease to the slum-dwellers, had now asked them to vacate it.
Similarly, at Chatru village a local land owner had initially given land on lease to the slum-dwellers. They cleared the land for setting up their temporary huts, but later the land owner asked them to move away from the place as his kin were averse to slum-dwellers being settled in their vicinity.
An activist who has been trying to help out the slum-dwellers while speaking to The Tribune said the residents of some villages had accepted the slum-dwellers from Rajasthan.
"They have given them land on rent to put up their huts. However, nobody was ready to accept the slum-dwellers from Maharashtra. There are about 70 families from Maharashtra who had been staying here for the last about three decades. Most of them are labourers or rag-pickers. They are performing the important job of scavengers in Dharamsala town picking up and selling all recyclable solid waste," he said.
Requesting anonymity, the activist alleged that they had been called by the police and threatened against raising their voice for the evicted slum-dwellers.
He also alleged that people in villages were throwing away slum-dwellers.
About 800 slum-dwellers from Dharamsala were evicted as the land they were illegally occupying was earmarked for the construction of a new office of the municipal corporation. At the time of evicting them, Dharamsala municipal corporation officials had promised to settle them on common lands in adjoining villages and also provide them basic sanitation facilities.
However, the villagers vehemently opposed the move to settle the slum-dwellers on their common lands.
Thereafter, the slum-dwellers took land on rent from private owners in many villages adjoining Dharamsala to make their temporary residence. However, the panchayats of some villages held meeting and asked the private land owners against the given land on rent to slum-dwellers. The panchayat pradhans alleged that there were many criminal elements among the slum-dwellers and they did not want them to settle in their neighbourhood.
However, there are many among the slum-dwellers whose children are going to schools and are aiming for brighter future through education. Out in the open, these students can now hardly expect to continue their studies.