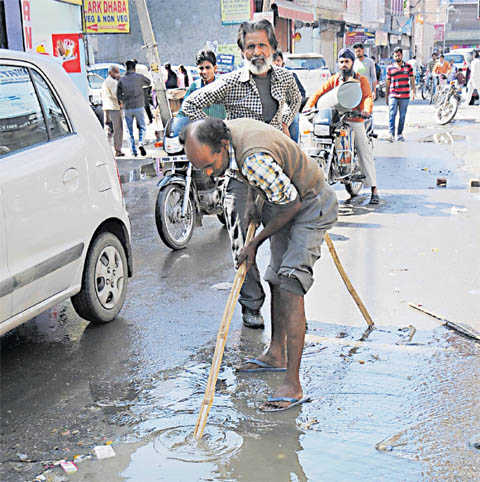 Meet Ravita — Ravita Kherwal — if you ask her full name. Ask her why in this fullness is there an incomplete Ravita, she'd tell you what it takes to fill it in with: "I am a Dalit."
"My classmates kept off me and taunted me for being a daughter of bhangis (manual scavengers). My parents were never into manual scavenging. Then why was I a victim of untouchability?" asks Ravita (32), who stopped off in the city on way to the Bhim Yatra. Ravita is joined by 23 people in the 125-day journey that started from Dibrugarh in Assam on December 10, last year, to mark the 125th birth anniversary of BR Ambedkar. The yatra, an initiative of the Safai Karamchari Andolan (SKA), will culminate in Delhi on April 13 after covering about 500 districts.
An RTI query reveals that in Punjab, about 32 per cent of the population is Dalit, and 20 persons have died cleaning sewers in Ludhiana, Amritsar, Jalandhar, Patiala and Barnala in about a decade, says Subhash Desawar, SKA's Punjab convener.
In 1993, India banned employment of people as manual scavengers. In 2013, a new legislation, the Prohibition of Employment as Manual Scavengers and their Rehabilitation Act, was passed which seeks to reinforce the ban by prohibiting manual scavenging in all forms and ensures the rehabilitation of manual scavengers to be identified through a mandatory survey.
According to the House Listing and Housing Census 2011, states such as Andhra Pradesh, Assam, J&K, Maharashtra, Tamil Nadu, Uttar Pradesh and West Bengal account for more than 72% of the insanitary latrines in India.
"The purpose of the yatra is to make safai karamcharis aware of their rights, as provided under the 2013 Act. Most of them are unaware that manual scavenging has been banned," says Jyoti Prabha Naik (26), SKA's Odisha convener.
She points out another problem. "Majority of the manual scavengers lack confidence to approach officials for getting rehabilitated, as they are uneducated. And those who do are snubbed." To make her point, Jyoti talks about a safai karamchari from Bihar. "She told me government officials asked her why she wanted a caste certificate for her children. They plainly told her that her children would continue her work after she left."
Dharam Valmiki (26), Jharkhand convener of the SKA, takes up another aspect. "Is cleaning toilets, sewers and septic tanks the work of Dalits? Is it our job to make bharat swachh? Why can't members of upper castes, too, do it?" He wants all governments to strictly enforce the anti-scavenging ban.
And money is hardly any compensation for "killing us," says Bezwada Wilson, SKA's national convener. "We will not bargain our lives with money. By compensating families of men who die cleaning sewers will not solve the problem. Can money ensure a life of dignity?"
What about the 2013 Act? "It has many loopholes," says Wilson. He points out one. Section 2 (i) (g) (b) of the Act states, "a person engaged or employed to clean excreta with the help of such devices and using such protective gear, as the Central Government may notify in this behalf, shall not be deemed to be a 'manual scavenger'".
"Protective gear or not, why humans need to enter sewers to clean someone else's refuse? Why can't a system be developed that obviates getting inside sewer lines?" he asks. "Is it because Dalits are into manual scavenging, the government is not serious about their rehabilitation. Had members of other castes been involved, some solution would have surely been found."
The struggle is a long one, both on individual and collective fronts. For Jyoti, it was a struggle against the casteist mindset of society to get educated after her teacher in Class VI snubbed her: "People from your caste do not study much." Today, she is pursuing graduation.
On the mass level, they march together, remembering what Ambedkar said: "No law is implemented on its own; the power of the people is needed to push it."
Top News
The purported video of the AAP leader meeting the jail super...
after killing he buried the body in the sand and tied the do...
Their movements were trapped in hand-held thermal imaging ca...
FIR was filed against four for 'glorifying' gun culture in A...
Gokhale, 77, was admitted to the Deenanath Mangeshkar Hospit...