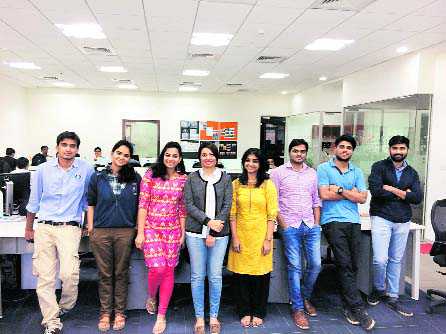 Sonia Sharma, MD and Founder, GoodWorkLabs
Women start-up leaders don't have an easy tread, especially in India but still there are some gutsy ones who have followed their dreams on this tough road. Shimla girl Sonia Sharma is one of them. An engineer by profession she is the brain behind GoodWorkLabs which is considered as one of the leading new-age outsourced product development (OPD) firms and UX design studios in the country and that too in just three years. GoodWorkLabs is headquartered in Bangalore, with offices in San Francisco Bay Area, USA, and Kolkata. The products she has built for clients have reached millions of users worldwide and is now set to take the venture to the next level by launching the best-in-class enterprise mobility platform called GoodWorks Mobility. Starting from a small team, this venture has grown to a 100-member team at present. Here's her experience in her own words:
Job seeker to job provider
Being a job provider gives me immense satisfaction and joy. Being a job provider, I have been able to contribute to the growth of our economy by creating job opportunities for younger generation. I think staying in our own country and creating opportunities for others is something that we can celebrate for.
The genesis
I always wanted to be an entrepreneur and my passion took me towards the field of Information Technology. After completing my BTech, I went on to work for a couple of startups which eventually got acquired by some of the biggest IT companies. Finally choosing Bangalore as my home base in 2006, I co-founded the employer review website 'Jobeehive' with Vishwas Mudagal and Sandeep Gudibanda. We had heavy traction and user base. But we did not know how to make money. In two years, it had to shut down. After gaining experiences in start-ups, I founded the web, mobile, and software technology startup GoodWorkLabs with Vishwas Mudagal as the first investor. Our goal was to create a world-class product oriented services company that was bootstrapped with an initial funding of Rs 25 lakh. By providing tech solutions based on the ideology of design thinking and user-centric UI/UX, we managed to grow our venture to a multi-million-dollar company.
The journey so far
I would call myself a practical dreamer, I have one dream at a time. We are growing at a rate of 500 per cent year-on-year. With this kind of phenomenal growth, we are poised to become a global leader in the 'innovation outsourcing' space.
Future course
We will be launching GoodWorks Mobility shortly. What's amazing about this launch is that we already have successfully signed up marquee clients for pilots and have further tied up with industry biggies (Fortune 500) to take our product to the market with several partnerships. We are also coming up with an innovation centre (work space) were we'll invite few handpicked startups. They'll also get mentorship from GWL leadership team.
We have a 100 member team at present. We are constantly looking out to attract new talent. We are currently are hiring for our Bangalore, Kolkata and California offices. We want to become a team of 200 members by the next year.
Top News
Over 3,000 tourists from various parts of country reported t...
Third top leader of AAP nabbed by a central agency in a year...
Bench led by Justice Sanjay Kishan Kaul directs Centre to fu...
Indian javelin star threw 88.88m, a season's best, to clinch...
Agency alleged Kapoor received money for performing at the w...