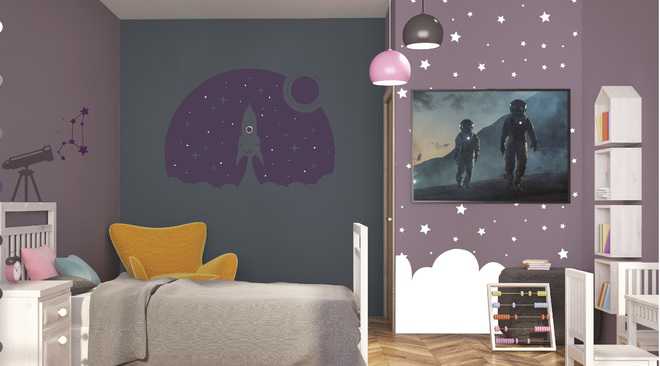 Bindu Gopal Rao
Recollect your childhood days when star-gazing was quite common. Probably that brought back a smile on your face, and it is exactly these elements that can be incorporated into your home decor as well. Adding the cosmic elements into a home can be done in many ways. The sky is the limit, quite literally.
To begin with, an effective way is to add elements as part of ceiling lighting. The combination of cove strip lighting and LED white lights are some of the simplest ways to create a cosmic setting within your interiors.
You could also use a cosmic print on your beddings, and have you walls plain.
However, don't end up sticking neon stars on the ceiling and call that a cosmic design. Feel free to experiment with the lighting options available in the market.
"Small and special, star cross knobs can replace the drawer/doorknobs without overdoing the theme. Metal and glass or studded acrylic or distressed mirror pendant lamps in the shape of stars, moon and galactic particles lights in a bunch would look great in the corner of a room, suggests Radeesh Shetty of The Purple Turtles.
"A shadow table lamp with stars or planets cut out, so that they project everywhere in the room when lit is a good idea. It can be placed in the bedroom or in the corner of the living room for maximum effect. A ceiling light installation in the shape of a crescent, best installed over a dining table is another way to add cosmic elements," suggests Parushni Aggarwal of Studio Creo.
Of shades and textures
Cosmic elements in your décor, apart from making a great statement, can yield 'heavenly' results when incorporated in the right manner.
When adding cosmic elements, it is all about mixing high impact metallic shades and glossy surfaces. Variety, texture and lighting are some key factors to consider while opting for cosmic designs.
The first rule is to not go overboard but at the same time not play too safe either.
Use a specific theme and stick to complementary motifs.
"For instance, if you decide your focal point to be a spaceship or a satellite motif, go light on accompanying star-based or planetary motifs. Opt for textured wall products as opposed to smooth wall finishes as this greatly complement cosmic themes. If not the walls, you can still experiment with rugs, cushions, statement wall accessories, tiles, crockeries and tabletops," says Mahesh Anand of Nippon Paint.
The glitter effect
Cosmic design can incorporated into everything from wallpaper to tabletop. To give a celestial theme to your bedroom, you can opt for stunning bedsheets and other items like cushions, rugs and clocks with a beautiful galaxy print.
"The key factor for a cosmic element in our home décor is the glitter effects. For the impact of exploding stars, use a wide colour palette with pink and purple, greens and turquoise. For a dramatic contrast, black and dark blue colours will be the perfect backdrop. For maximum impact, make sure to keep the rest of the room minimal," says Anjali Jain of Kala Drishti.
"Adding a stellar moon lamp or starry fairy light, which looks as alluring switched off as it does when it is lit, will add a magical and uber-chic appeal to the setting. Elevate the set up with quirky cosmic-themed décor elements like a rustic telescope or crescent-shaped mirrors. Pair shimmery cushions with your plush black sofa to curate an airy, space-like appeal while still maintaining an understated aura around the theme," says Saloni Khosla of Bespoke, Pepperfry.
Here comes the balancing act
Space performs as a foundation on which the entire interior design plan is built. "A space that is essentially filled with furniture/scheme items is a positive space. An empty space is a negative space. We must plan and be clear on what cosmic elements we would be using in our design," says architect Ksheer Vasudha Kumar of Navin's.
Even though you might be very inspired by cosmic elements, there are things to consider like using the right elements help you do up your home with the right balance.
"By adding different classic cosmic elements and aspects to your home decoration you can achieve balance and restfulness. You must do your research thoroughly as well as be clear about the areas that you want to focus on," says Kuntal Aggarwal of Resaiki Interiors.
Futurist trends and concepts are slowly inventing a new style of design. "Stairs of homes are a great place to explore this kind of form exploration. Stairs are usually transition spaces that have the potential to express bends, folds, movement and a lot of other things," says Malcolm Daruwala of Seedle by DC Group.
Since sky's the limit
Add the motifs in controlled portions as accents, else it can get overbearing on larger areas.
If you have a small living space, then focus on one wall of the room.
Keep the room minimal, otherwise space will look congested.
Try keeping forms pure and elegant and be mindful of things at all scales from macro to micro.
Make function and utility the driving force to determine these forms.
Allow for spaces to breathe and seek the importance of simplicity while trying to make an impact.
Top Stories