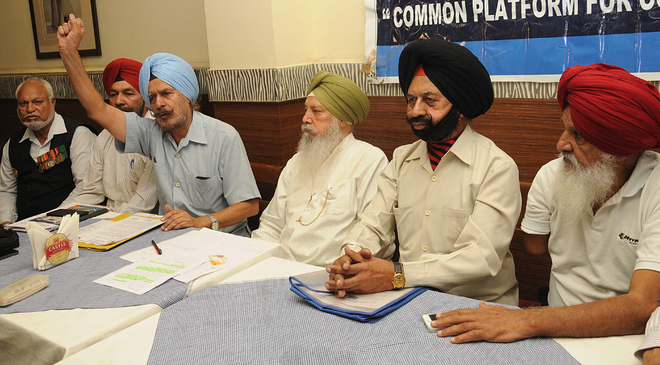 Rachna Khaira
Tribune News Service
Jalandhar, June 11
Around 5,000 ex-servicemen from Punjab will participate in a protest seeking one rank one pension (OROP) in Delhi from June 14.
Brig Harwant Singh (retd), state convener of the Indian Ex-Servicemen Movement (IESM), said around 5,000 ex-servicemen from the state had already left for Delhi to participate in a nationwide rally. He said around 200 of them would launch an indefinite chain hunger strike at Jantar Mantar. Similar such strikes would be held in many other cities across the country, he said.
"An event will be organised at a war memorial in Jalandhar where war widows will give a ceremonial farewell to all ex-servicemen who would be leading the battle for our right by launching the hunger strike in Delhi. There are around six lakh ex-servicemen in the state," he said.
Major General Satbir Singh (retd), chairman, IESM, said President Pranab Mukherjee in a joint Parliament session held in June last year had asked the NDA government to implement OROP, establish a national commission of ex-servicemen and construct a war memorial in Delhi, but nothing happened so far.
Chandigarh: Addressing the media today, Brig KS Kahlon (retd), president, chapter of the All India Defence Brotherhood, said several veterans would return their gallantry and service medals to the President as part of the nationwide protest.
Brig Harwant Singh (retd), member of the governing body of Indian Ex-Servicemen Movement, said despite repeated promises and assurances given by the Prime Minister to implement the OROP, the government had failed to do so.
They said that the Defence Minister had claimed that everything was tied up and the file would be cleared by the Finance Ministry "in a matter of days", but the Finance Minister contradicted him saying that the modalities were yet to be worked out. The PM's statement that a number of definitions existed for OROP further added to the confusion, they said.